European royals turning their hand to Mandarin
The Dutch people have applauded the announcement that Princess Catharina-Amalia, the 13-year-old heir to King Willem-Alexander's throne, is to learn Chinese when the new semester starts in The Hague.
Some have dubbed it the royal family's "smartest investment", pointing out the enhanced bilateral relations between China and the Netherlands.
Such a move has already been made by the Belgian monarchy. Princess Elisabeth, the Duchess of Brabant, was born in 2001, the first child of King Philippe. She studies Mandarin in a Dutch-speaking school in Brussels.
The Duchess of Brabant title is reserved for the heir apparent, and she is likely to become a queen who can speak Chinese as long as she can endure the difficulties of learning a language harder than her mother tongue.
Long tradition
In fact, the older generation of Europe's royal families has a long tradition in immersing themselves in Chinese culture.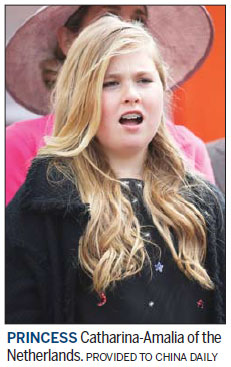 Although Britain's Queen Elizabeth, who celebrated her 90th birthday this year, doesn't speak Chinese, she has enormous interests in Chinese beliefs, especially Taoism and the tradition of longevity, a prime Chinese value.
This month, the University of Wales Trinity St. David, partly supported by the British monarchy, set up an academy of Sinology, with the goal of nurturing doctorate students studying ancient Chinese religions, texts, language and history.
The Danish monarchy is another European royal family that has shown a keen enthusiasm for China, its culture and primary language. Apart from Danish, French and English, Chinese has been among the languages used on the royal family's website since 2014.
Denmark's Queen Margrethe, 76, and King Willem-Alexander of the Netherlands and Belgium's King Philippe have already paid visits to China since Xi Jinping was elected president. Xi has also visited the Netherlands, Belgium and Britain since early 2014.
Studying Chinese is becoming popular across Europe.
During the Greek debt crisis, when I was interviewing parliamentarians in Greece, one even arranged for his 16-year-old daughter, who was learning Mandarin, to sit in on the one-hour interview.
And within European institutions, Chinese-language training courses are routinely offered to young officials.
On July 21, when I was immersing myself in the crowds for the Belgian National Day parade, a retired Belgian man stopped me, telling me that, when he was young, he studied Chinese in Taiwan for a few years and spent more than 10 years in the mainland.
I was astonished by his fluency and mastery in the Chinese ways of communication.
This all shows evidence of a growing trend that Chinese is becoming more popular globally because of the attractions of Chinese civilization and the country's modernization in recent decades. Such trends merit an innovative response from China.
Britain, the United States, Canada, Japan, France and other countries have already set up many schools in China with their own curriculum in July. Their experiences should be copied as China extends its presence globally.
All in all, starting from kindergarten to university, China should consider "smart investment" in overseas education.
That should be part of the mission for China's new minister of education, Chen Baosheng, who started to work in this position.
fujing@chinadaily.com.cn