Musicians from Silk Road countries perform at Geneva to showcase intercultural dialogue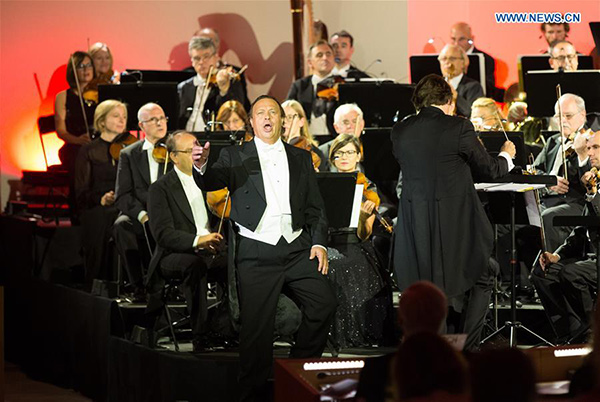 Russian tenor Vladimir Galouzine (front) performs during a concert held at the Palais des Nations, the United Nations European headquarters in Geneva, Switzerland, Oct 14, 2017. [Photo/Xinhua]
GENEVA - A group of prestigious musicians from various Silk Road countries Saturday performed at a special concert at the United Nations (UN) headquarters here as an example of intercultural dialogue and understanding.
Held in the famous Human Rights and Alliance of Civilizations Hall of the Palais des Nations at Geneva, the concert was described as "a true encounter between East and West."
The special concert, co-organized by the United Nations Alliance of Civilizations (UNAOC) and the Barcelona-based Fundacion Onuart, brought together the Symphonic Orchestra of the Balearic Islands directed by Spanish Maestro Pablo Mielgo, as well as some well-known artists from Silk Road countries.
While offering a musical journey through the Silk Road, the organizers said the concert set out to use music "as an instrument to foster intercultural dialogues and rapprochement between nations and cultures."
"The setting of the Human Rights and Alliance of Civilizations Hall in the Palais des Nations in Geneva will provide the ideal backdrop to promote dialogue and peace around the world through music," the organizers said in a statement.
Ma Zhenxuan, president of the Center for Public Diplomacy and Cultural Exchange and one of the organizers of the event, said the concert demonstrated the power of music in the process of enhancing mutual understanding among people, as well as people's support towards the China-proposed Belt and Road Initiative which links the countries located on the ancient Silk Road and beyond.
In order to better practice the Chinese concept of "building a community of shared future for all humankind," the center is now trying to establish an international network for public diplomacy, or even a World Public Diplomatic Organization, he added.
Cao Mingqi, vice president of the Center for Public Diplomacy and Cultural Exchange, said after the concert that the center hopes to better promote the Belt and Road Initiative through cultural exchanges.
He voices his hope that the concert will bring more countries together to contribute even more to world peace and prosperity in the future.
The Belt and Road Initiative, which comprises the Silk Road Economic Belt and the 21st Century Maritime Silk Road, seeks to promote trade, financial integration, infrastructure inter-connectivity and people-to-people exchanges along and beyond the ancient Silk Road trade routes linking Asia with Europe and Africa.