Death toll from Mogadishu blast hits 85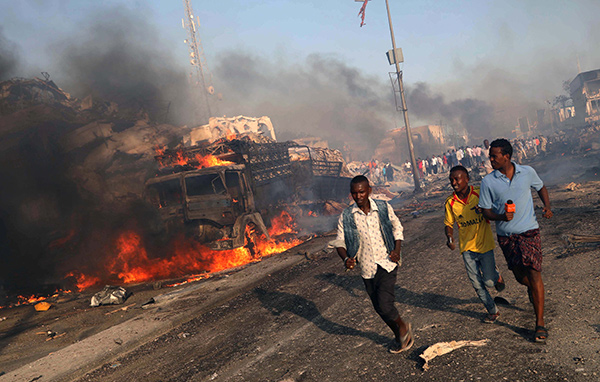 Civilians evacuate from the scene of an explosion in KM4 street in the Hodan district of Mogadishu, Somalia October 14, 2017. [Photo/Agencies]
MOGADISHU - The death toll from Saturday afternoon's bombing at a hotel in Somali capital of Mogadishu has risen to over 85, sources in medical facilities confirmed to Xinhua on Sunday.
Abdulkadir Abdirahman Adem, director of the Amin Ambulance Service, told Xinhua by telephone that medical officers had so far counted 85 dead bodies after the attack in Mogadishu's Safari Hotel.
Adem said the figure could go higher while more than 250 victims of the attack were still receiving treatment at health facilities.
"This was the deadliest attack in Mogadishu in recent times" said Adem.
Somali President Mohamed Abdullahi Mohamed has declared three days of mourning as the Horn of Africa country came to terms with the deadly bomb explosion on Saturday afternoon.
The explosion happened at the KM5 junction that is usually busy in the afternoons.
Hospitals have already sent out appeals for blood to help save lives of the injured victims of the blast.
The Al-Qaida linked militant group, Al-Shabaab, which has carried out similar attacks before has not claimed responsibility for the latest one.