Euro-Sino cultural exchange honors Chinese woman musician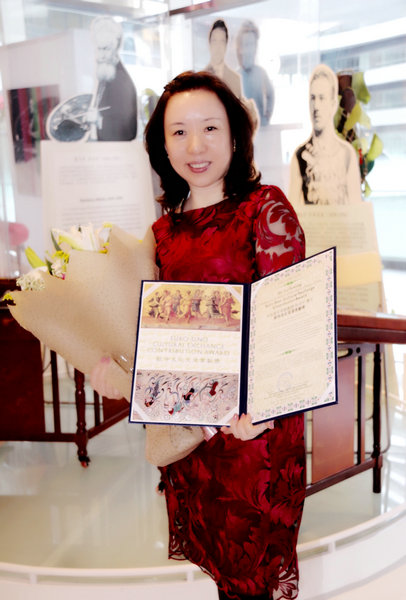 Liu Yuening at the award ceremony for the 2016 Euro-Sino Cultural Exchange Contribution Award, Beijing, March 2, 2017. [Photo provided to chinadaily.com.cn]
The award ceremony for the 2016 Euro-Sino Cultural Exchange Contribution Award was held at the Hungarian Cultural Institute of Beijing on Thursday. Chinese dulcimer artist Liu Yuening of the Central Conservatory of Music was honored with the award.
Musician Chen Ziming, Director-General of the Hungarian Cultural Institute of Beijing Szonja Buslig, Director-General of the Romania Cultural Institute of Beijing Constantin Lupeanu, Deputy Secretary-General of the Western Returned Scholars Association (Chinese Overseas-Educated Scholars Association) Xu Suining and about 70 guests attended the ceremony.
Presented by the European Institute for One Belt One Road Cooperation and Development (EUOBOR) headquartered in Budapest, Hungary, the award honored Liu's great effort and distinguished contribution to cultural and artistic exchanges between Europe and China.
Her effort has not only enhanced the mutual understanding and integration between Europe and China in the field of musical culture, but deepened the friendship between the two sides.
Liu went to the Liszt Franz Academy of Music in Hungary for research on the European dulcimer artists in 2005.
In 2016, Liu led the European Tour Troupe of Prizewinners of National Yangqin (Chinese dulcimer) Competitions of China to visit Austria, Hungary and Romania, which was an icebreaking trip for the exchange of musical culture between Chinese and European dulcimer players.
At the ceremony, Liu performed Hungarian classic dulcimer music along with the Jasmine Ensemble of the Central Conservatory of Music and young composer Li Bochan's new work Nurturing Rain .