Bins, cooking, the bedroom: Britain's May offers glimpse of private life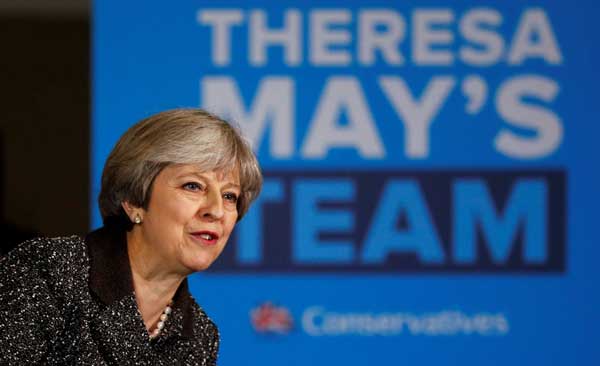 Britain's Prime Minister Theresa May attends a campaign event in York, UK, May 9, 2017. [Photo/Agencies]
Asked whether he was immediately attracted to May, he said: "Absolutely. It was love at first sight."
May agreed, with a "likewise".
And whether her red box, a traditional briefcase ministers use to hold official documents, ever made it into the bedroom? Philip replied: "I don't think it's ever made an appearance in the bedroom. I've never had to try and sort of ... shoo it out."
With the couple sitting side by side on a sofa, it was a clear attempt by her to reach more voters, some of whom may not tune into news programs which are dominated by coverage of the election campaign and Britain's Brexit talks.
And it was a rare glimpse into May's personal life, starting with her childhood as the daughter of a vicar, through her almost 37 years of marriage, to walking for the first time into the official Downing Street residence.
Although several answers echoed her speeches on the campaign trail, she offered some insight into what motivates her, denying she had spent most of her life wanting to be prime minister.
"For me it's always been about making a difference because politics is about people and it's about improving people's lives ... doing things that really will help people to get on and have a better future," she said.
"It absolutely dawns on you when you are walking through the door of number 10 for the first time in that role and it's a huge privilege but you also actually feel a huge responsibility."
Reuters