UK PM May reaffirms aim to bring down net immigration to 'tens of thousands' per year
LONDON - Prime Minister Theresa May said on Monday her Conservative Party would keep its pledge to bring down net immigration to the United Kingdom down to "tens of thousands" per year if it wins an election next month.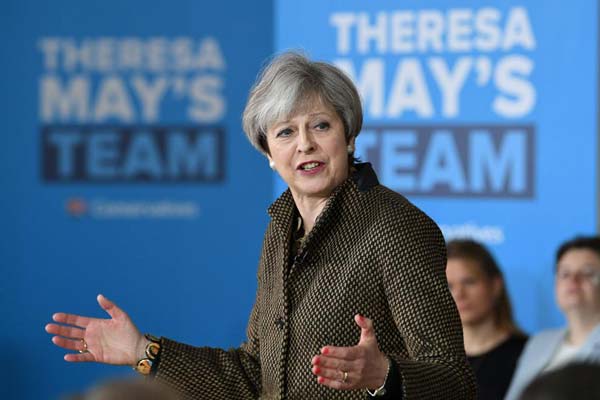 Britain's Prime Minister Theresa May addresses Conservative parliamentary candidates for London and the south east at the Dhamecha Lohana Centre in Harrow, north west London, May 8, 2017.   [Photo/Agencies]
"It is important that we continue, and we will continue, to say that we do want to bring net immigration down to sustainable levels. We believe that is the tens of thousands," May told supporters in London.
Despite being a Conservative commitment since the party came to power in 2010, the target has so far been missed. Official data shows a net 273,000 people came to Britain in the year to last September, down 49,000 from the previous year and the lowest recorded figure since the year ending June 2014.
"Of course, once we leave the European Union we will have the opportunity to ensure that we have control of our borders here in the UK because we will be able to establish our rules for people coming from the European Union into the UK," May said.
"Leaving the EU means that we won't have free movement as it has been in the past," she added .
Agencies