British PM May, EU's Tusk meet on Brexit, talks positive on both sides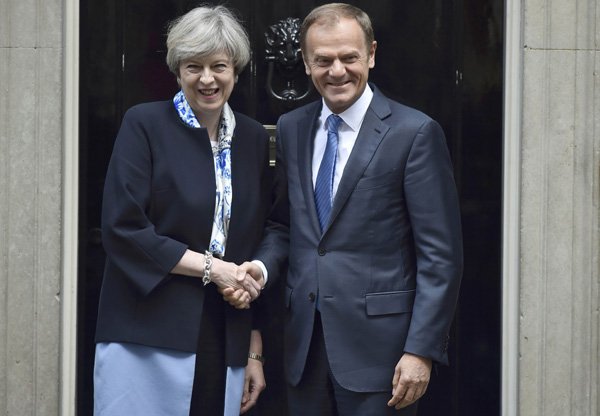 Britain's Prime Minister, Theresa May, greets Donald Tusk, the President of the European Council, outside 10 Downing Street, in central London, Britain April 6, 2017. [Photo/Agencies]
LONDON - European Council President Donald Tusk met British Prime Minister Theresa May for Brexit talks on Thursday in London, with 10 Downing Street saying later that both leaders agreed the tone of discussions had been positive.
The two agreed to try and remain in close contact as negotiations about Britain's departure from the EU progressed, said an official spokesperson for May.
It was the first time the two had met since May triggered the Article 50 process last week, setting in motion Britain's departure from the European Union (EU) through an official letter delivered to Tusk on Britain's decision to leave the bloc.
Tusk smiled to waiting media as he left Number 10, but gave no comment about their private 90-minute meeting.
In a communique after the meeting, Downing Street said: "The PM reiterated the UK's desire to ensure a deep and special partnership with the EU following its exit and noted the constructive approach set out by the Council in its draft guidelines published last week."
"She said the UK looked forward to formally beginning negotiations once the 27 member states agreed guidelines."
The statement added that May also made it clear that on the subject of Gibraltar, Britain's position had not changed.
"The UK would seek the best possible deal for Gibraltar as the UK exits the EU and there would be no negotiation on the sovereignty of Gibraltar without the consent of its people," it said.
Gibraltar, located at the southern tip of the Iberian Peninsula at the entrance of the Mediterranean Sea, was ceded to Britain as part of the Treaty of Utrecht in 1713. Spain has persistently sought to regain the territory.
The statement said that with Britain also remaining a member of the EU for the next two years, May and Tusk also discussed the agenda for the next EU Council meeting.