Tusk reiterates no punitive approach to Brexit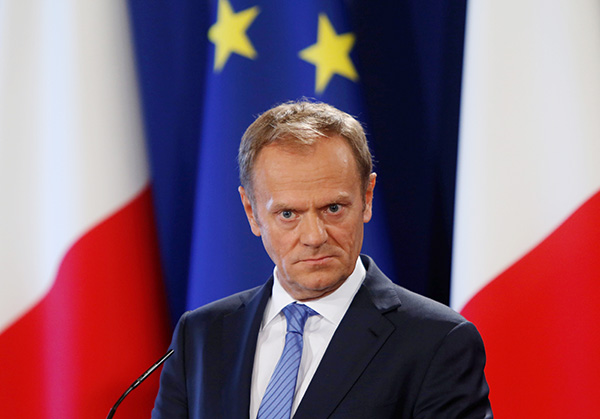 President of the European Council Donald Tusk takes part in a joint news conference about Brexit with Malta's Prime Minister Joseph Muscat in Valletta, Malta, March 31, 2017. [Photo/Agencies]
VALLETTA - European Council President Donald Tusk reiterated on Friday that the European Union (EU) would not seek to take a punitive approach in the forthcoming talks on Britain's exit of the EU (Brexit), noting Brexit on its own is punitive enough.
Tusk made these remarks at a joint press conference with Maltese Prime Minister Joseph Muscat in Valletta, capital of Malta, on the draft negotiation guidelines for Brexit.
Foreseeing the talks would be difficult, complex and sometimes confrontational, Tusk hoped the divorce would be as smooth as possible and stressed that the only point contact for the talks would be with EU's chief negotiator Michel Barnier.
First, agreement on the principles for Brexit is needed and once sufficient progress is achieved, negotiations on a new relationship would be able to start, he said.
If Britain wants to achieve a constructive agreement, it must be done with the remaining 27 member states of the EU as a unit, he said.
The 27 EU states will decide if sufficient progress has been achieved, probably by autumn, he added.
Tusk said that the main duty is to minimize uncertainty and disruption for citizens, businesses and member states.
The status of their citizens living, working and studying in Britain needs to be guaranteed, and negotiations must also prevent a legal vacuum for EU companies, Tusk said.
While there is no such thing as a Brexit bill for leaving commitments must be honored, added Tusk.
The issue of Northern Ireland will also be given special consideration in order to avoid a hard border between Northern Ireland and Ireland and ensure peace and stability is maintained, he said.
On security cooperation, Tusk said that especially after the terrorist attack in London it is clear security and terrorism are a common problem and security cooperation will not be used as a bargaining chip.
People must not be used as bargaining chips by any side, and this issue should be settled as quickly as possible, said Muscat, whose country holds the rotating EU presidency from January to June this year.
Minutes before the joint press conference, Tusk tweeted: "EU27 does not, will not pursue punitive approach. Brexit in itself is already punitive enough."
"Only once we have achieved sufficient progress on the withdrawal, can we discuss the framework for our future relationship," Tusk tweeted.