Latest round of Syria peace talks ends, some progress made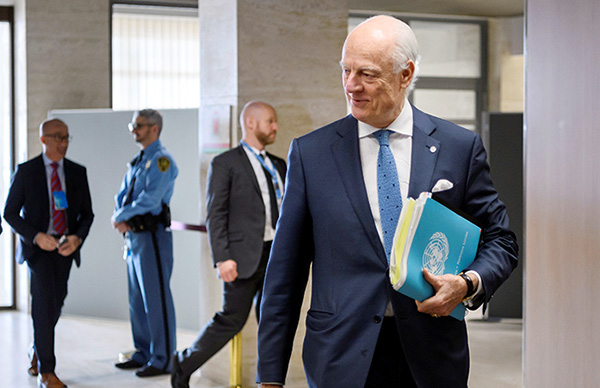 UN Special Envoy for Syria Staffan de Mistura arrives at a meeting with government delegation during Syria peace talks in Geneva, Switzerland March 31, 2017.[Photo/Agencies]
GENEVA - The fifth and latest round of Syria peace talks wrapped up on Friday, with the UN special envoy for Syria commending the engagement of delegations in negotiations seeking to broker a political end to the six-year conflict.
"After the fourth round, you probably remember, I said we have finally a clear agenda and a method, the four baskets, to advance UN Security Council resolution 2254," Staffan de Mistura told press.
"After this round, I think I can say with caution that all the invitees have gone into considerable detail on the substance of that agenda with us, using exactly the methodology that we established," he added.
The UN envoy noted that rival delegations were both "serious" and "engaged" in talks seeking to end the Syrian conflict which has killed over 310,000 people since it kicked off in 2011.
According to de Mistura, who has been shuttling between delegations since March 24, the invitees touched upon "each or most" of the four baskets, referring to issues of governance, constitution, elections and counter-terrorism.