SpaceX launches first recycled rocket in test of cost-cutting model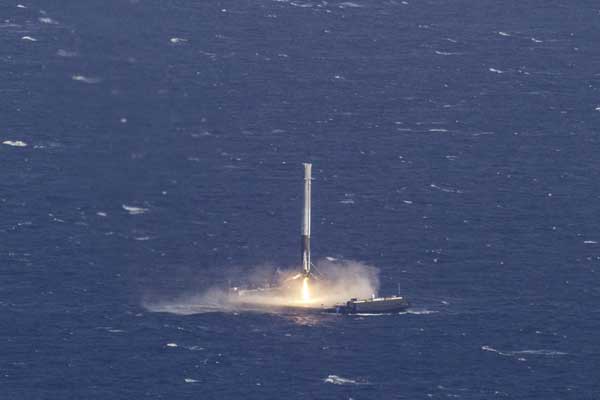 The reusable main-stage booster from the SpaceX Falcon 9 rocket makes a successful landing on a platform in the Atlantic Ocean about 185 miles (300 km) off the coast of Florida April 8, 2016 in this handout photo provided by SpaceX. [Photo/Agencies]
CAPE CANAVERAL, Fla.- A SpaceX Falcon 9 rocket recovered at sea from its maiden flight last year blasted off again from Florida on Thursday in the first successful launch of a recycled orbital-class booster, which scored a double feat with another return landing on an ocean platform.
The unprecedented twin achievements of launching a reusable rocket and salvaging the vehicle yet again for a possible third mission was hailed by billionaire SpaceX founder Elon Musk as are volutionary milestone in his quest to slash launch costs and shorten intervals between space shots.
The Falcon 9 booster, which previously flew in April 2016, lifted off from the Kennedy Space Center at 6:27 p.m. EDT (2227GMT) to put a communications satellite into orbit for Luxembourg-based SES SA.
The booster's main section then separated from the rest of the rocket and flew itself back to a landing pad in the Atlantic, where it successfully touched down for its second at-sea return.
"This is going to be ultimately a huge revolution in space flight," Musk said during a webcast from the launch control center at Cape Canaveral immediately after the Falcon 9's autonomous touchdown. "It's been 15 years to get to this point."
Musk said his California-based company's next goal in the burgeoning commercial space industry will be to turn around a salvaged rocket booster for re-launch within 24 hours, and to doso by the end of this year.
SpaceX in December 2015 landed an orbital rocket after launch for the first time, a feat it has now repeated eight times.
By reusing rockets, SpaceX aims to eventually cut its costs by about 30 percent, the company has said. It lists the cost of a Falcon 9 ride at $62 million but has not yet announced a price for flying on a recycled rocket.
But Musk said his company has so far spent about $1 billion to develop reusability for the launch booster, the most expensive part of the rocket.
Proving the concept works is crucial to SpaceX, which is moving on from an accident in September that damaged another Florida site.
SpaceX also is working on a passenger spaceship, with two unidentified tourists signed up for a future trip around the moon. The company's long-term goal under founder Musk is to fly people to and from Mars.
For its 33rd mission, SpaceX is reusing a Falcon 9 booster that was the first to make a successful return landing in the ocean. Four previous SpaceX at-sea landing attempts failed. The first successful ground-based touchdown of an orbital-classrocket booster came the previous December.
On Thursday, the rocket's second-stage, which is notrecovered, continued firing to carry SES-10 into an initial egg-shaped orbit high above Earth, which it will providetelevision and other communications services to Latin America.
SES received a discount for joining the inaugural run, chieftechnical officer Martin Halliwell told reporters this week, declining to specify the cost.
Price alone was not the reason SES, with a fleet of 65 satellites, decided to fly on a used rocket, he said.
Reuters