US SpaceX to fly 2 space tourists around moon in 2018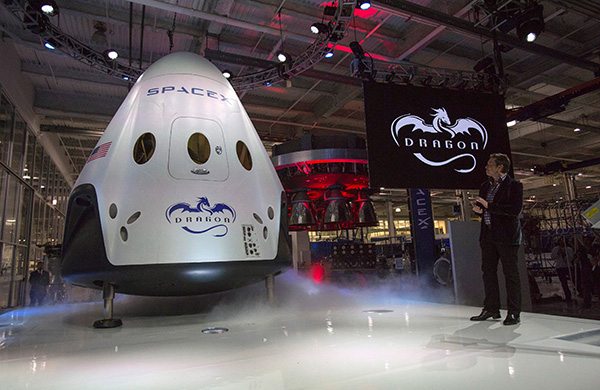 File Photo: SpaceX CEO Elon Musk (R) unveils the Dragon V2 spacecraft in Hawthorne, California May 29, 2014. [Photo/Agencies]
LOS ANGELES - US space firm SpaceX will fly two private space travelers on a passenger flight around the moon and back before the end of next year, the company said on Monday.
"Fly me to the moon ... Ok," SpaceX founder and CEO Elon Musk posted on Twitter.
Once operational Crew Dragon missions are underway for US space agency NASA, SpaceX will launch the private mission on a journey to circumnavigate the moon and return to Earth, according to a statement from the company.
Lift-off will be from Kennedy Space Center's Launch Complex 39A near Cape Canaveral in Florida, the same launch pad used by the Apollo program for its lunar missions.
Since the last of NASA's Apollo moon landings in 1972, no astronauts have traveled beyond low-Earth orbit. That means an opportunity for humans to return to deep space for the first time in 45 years.
The two individuals, who have not been named, have already paid a significant deposit to do a moon mission, according to the California-based company.
The company plans to launch its passenger flight in 2018 by using a Dragon 2 spacecraft and the massive new Falcon Heavy rocket.
SpaceX, founded in 2002 by billionaire Musk, has been the face of American commercial space industry. It has been hired by the US space agency NASA to resupply the International Space Station (ISS) using its Falcon 9 rocket and Dragon cargo ship.
The company suffered a major setback in September last year, when its Falcon 9 rocket exploded on its launch pad at Cape Canaveral, Florida, dealing a blow to the company's ambitious space exploration project, and even America's commercial space industry.
Also in June 2015, its Falcon 9 rocket exploded midair just minutes after liftoff during its seventh space station resupply mission.
As part of NASA's Commercial Crew Program, SpaceX needs to perform an average of four Dragon 2 missions to the ISS per year, three carrying cargo and one carrying crew.