Juncker, Muscat optimistic about EU's future despite Brexit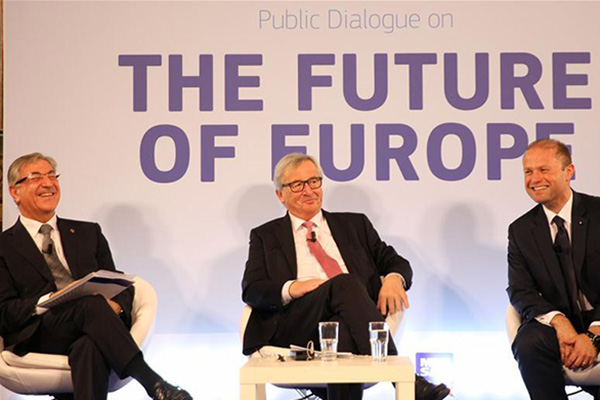 European Commission President Jean-Claude Juncker (C) and Maltese Prime Minister Joseph Muscat (R) attend a public dialogue on the future of Europe in Valletta, Malta on March 29, 2017. Maltese Prime Minister Joseph Muscat and European Commission President Jean-Claude Juncker shared their views on Brexit in a public dialogue on the future of Europe held in Valletta on Wednesday. [Photo/Xinhua]
VALLETTA - Maltese Prime Minister Joseph Muscat and European Commission President Jean-Claude Juncker shared their views on Brexit in a public dialogue on the future of Europe held in Valletta on Wednesday.
Muscat said there was nothing sweet about Britain leaving, but what will emerge in the next weeks and months is that Europe is resilient.
Muscat added that he believes Europe will surprise everyone with its degree of unity and resilience, wanting to go ahead regardless of Brexit.
He further expressed faith in the EU commission, convinced they will do an excellent job in preparing for negotiations with Britain.
The Brexit negotiations would be tough, Muscat said, but there was a willingness to reach a fair solution to everyone, not just one side. However any deal with Britain would have to be inferior to the benefits of full EU membership, he added.
Asked about the possibility of associated citizenship for British citizens, Juncker said this will depend on the negotiations that are established.
However, he warned that if this were happen, it might be an answer for British citizens but would not take away the dangers of Brexit.
Juncker was quite unequivocal in his remarks. He stated that when the British went for referendum they did not care about their future and that they would come to regret this decision.
On Brexit negotiations and possible investment from British companies, Muscat said negotiations had to be approached fairly and there was healthy competition among all member states in this respect.
Juncker ended the evening affirming that despite all the EU's weaknesses and failures, Europe is the best place on earth to live and he was positive about the future.