Merkel's sweeping victory in state election dims 'Schultz effect'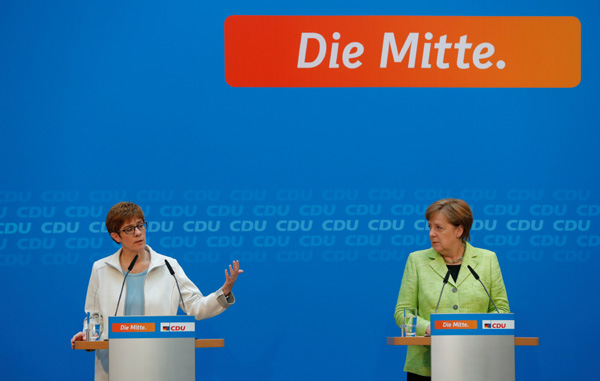 German Chancellor and leader of the Christian Democratic Union (CDU) Angela Merkel and Saarland State Prime Minister Annegret Kramp-Karrenbauer address news conference in Berlin, Germany, March 27, 2017. [Photo/Agencies]
BERLIN - German Chancellor Angela Merkel on Monday hailed her party's triumph in the southwestern state of Saarland, saying it boosted the morale of Christian Democratic Union (CDU) ahead of the coming federal election in September.
"The CDU has demonstrated an outstanding result with 40.7 percent of votes with a significant growth in turnout when compared with the previous election in the Landtag (State Diet) and with a growth in support numbers," Merkel said.
She called the state election the day before "encouraging" and "great."
With six months to go before the federal election on Sept 24, Merkel's Christian Democratic Union (CDU) party won 40.7 percent of the vote in the Saarland state parliament, an improvement on the 35.2 percent achieved in the 2012 election.
The rival Social Democratic Party's (SDP) share of the vote fell from 30.6 percent to 29.6 percent.
There are 800,000 eligible voters in Saarland, Germany's smallest non-city state in the southwest of the country bordering France and Luxembourg. The CDU has governed the state for 18 years. State Premier Annegret Kramp-Karrenbauer took office in 2011 and since 2012 has been in a "grand coalition" with the SDP (mirroring arrangements at the national level).
Turnout was 71 percent, up from the 61.6 percent in 2012.