British PM May calls for early election to strengthen Brexit hand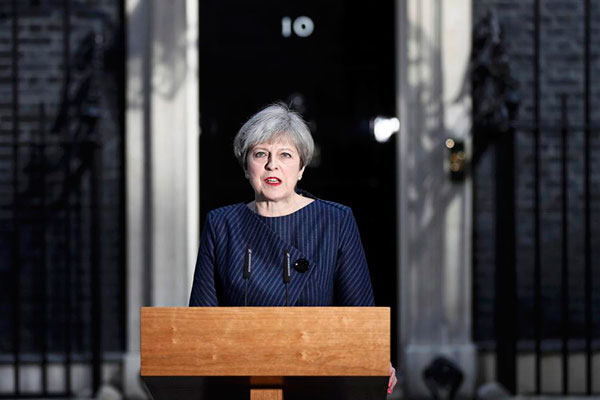 Britain's Prime Minister Theresa May speaks to the media outside 10 Downing Street, in central London, Britain, April 18, 2017. British Prime Minister Theresa May called on Tuesday for an early election on June 8, saying the government had the right plan for negotiating the terms of Britain's exit from the European Union and she needed political unity in London. [Photo/Agencies]
Theresa May, the British prime minister, said on Tuesday that she will call for a general election on June 8.
She said she decided to call for snap polls reluctantly but felt she had no choice. In recent weeks, May and her office have keep saying that there would be no election until 2020.
The ruling party has a majority of 17 in the current Parliament, which leaves May vulnerable to rebellions from her own party members, either those who are against Brexit or those for it.
Justifying her decision, May said: "Our opponents believe that because the government's majority is so small, our resolve will weaken and that they can force us to change course. They are wrong.
"They underestimate our determination to get the job done and I am not prepared to let them endanger the security of millions of working people across the country."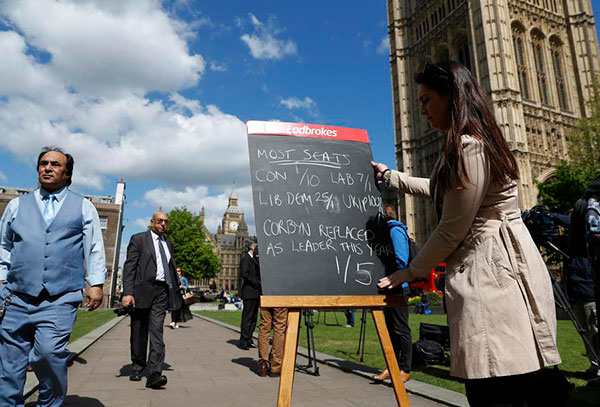 A woman displays a bookies chalk board marked with odds, besides the Houses of Parliament, in central London, Britain, April 18, 2017. [Photo/Agencies]
The latest opinion polls put May's ruling Conservatives as much as 21 points ahead of the opposition Labour Party.
In order to call an election, the government will have to get a two-thirds majority in Parliament to overturn the Fixed Term Parliaments Act. May challenged the opposition parties to back the bill on Wednesday.
May took over the leadership from David Cameron after he resigned last year following Britain's referendum decision to leave the European Union.
This left her governing the country without a parliamentary mandate for Brexit and without the personal endorsement a general election victory confers on a party leader.
The election means that British voters will get a second opportunity to show their feelings about Brexit, which could lead to greater clarity if May wins, or greater confusion if she has limited success.
May is aided by the disarray in the Labour Party. Its leader, Jeremy Corbyn, is very unpopular in the country and he appears to lack interest in the machinery of British politics.
copy@mail.chinadailyuk.com