Trump: China not currency manipulator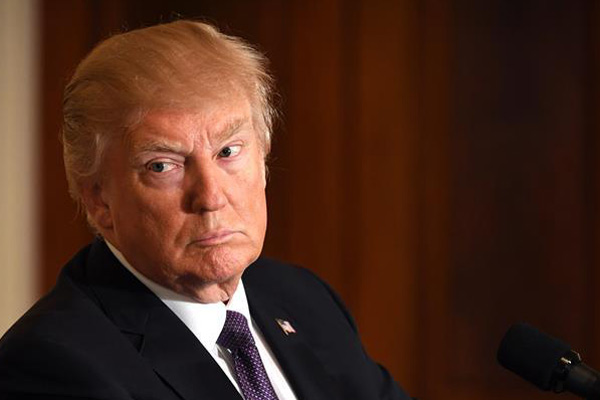 US President Donald Trump attends a press conference at the White House in Washington DC, on April 12, 2017. [Photo/Xinhua]
US President Donald Trump said on Wednesday that he will not label China a currency manipulator.
Trump made the remarks in an interview with the Wall Street Journal on Wednesday, indicating that China will not be named a currency manipulator in a US Treasury Department report on the exchange rate policies of its major trading partners. The report is expected to be released later this week.
"They're not currency manipulators," Trump told the Journal.
During the campaign, Trump vowed to impose 45 percent tariffs on Chinese exports into the US, triggering concern about a possible trade war between the two largest economies.
Such concerns have been greatly eased lately, especially following the first meeting between Trump and his Chinese counterpart President Xi Jinping in Trump's Mar-a-Lago estate in Florida last week.
Both sides have spoken positively of the meeting. Chinese Foreign Minister Wang Yi said both sides reached several important consensuses and the meeting has set a constructive tone for the development of the bilateral relationship.
Wang praised the meeting for boosting mutual understanding and establishing a good working relationship and personal friendship between the two leaders. Trump also accepted Xi's invitation to visit China this year.
The two sides also announced the China-US Comprehensive Dialogue mechanism to be overseen by the two presidents. It includes four pillars: Diplomatic and Security Dialogue; Comprehensive Economic Dialogue; Law Enforcement and Cybersecurty Dialogue; and Social and Cultural Issues Dialogue.
Most top US economists don't believe China has manipulated its currency in the past years.
The most recent US Treasury semi-annual report issued last October said China met only one of the three criteria for measuring a currency manipulator.
In its last annual evaluation of the Chinese economy, the International Monetary Fund described the value of the Chinese currency, known as yuan or renminbi (RMB), as "remains broadly in line with fundamentals."
US Treasury Secretary Steven Mnuchin also signaled in the past months that the US is unlikely to name China a currency manipulator anytime soon.
Larry Summers, US Treasury secretary from 1999 to 2001 and an economic adviser to former President Obama from 2009 to 2010, admitted recently that the US has been wrong to push for the appreciation of the yuan while the market force is to keep it down.