Queen Elizabeth II plays with her namesake baby elephant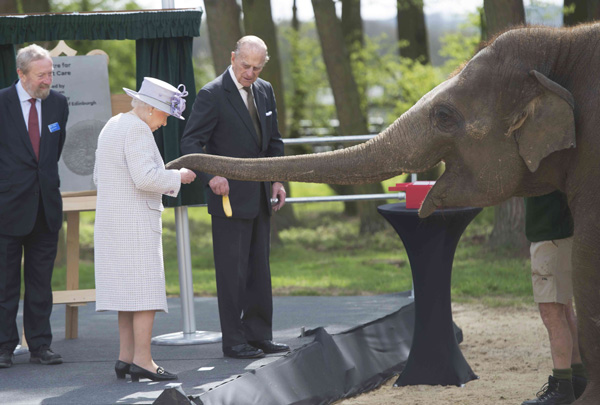 Britain's Queen Elizabeth and Prince Philip feed an elephant during a visit to Whipsnade Zoo where she opened the new Centre for Elephant Care, in Dunstable, Britain April 11, 2017. [Photo/Agencies]
LONDON - Queen Elizabeth II on Tuesday visited an elephant reserve in England prior to its opening to the public and came face to face with the herd's youngest member named after her.
The 10-month-old female calf was born in June and was named Elizabeth in honor of the Queen's 90th birthday.
The baby elephant, her mom Karishma and nine other Asian elephants will share a new extensive paddock at Whipsnade Zoo, run by the Zoological Society of London (ZSL).
Asian elephants are considered endangered due to habitat loss, poaching and human conflict.
The new home for the herd has seven linked outside areas, including a large grass paddock and two separate houses. Additional facilities include pools, mud wallows, dust baths and rubbing posts and high feeders.
The queen, accompanied by Prince Philip the Duke of Edinburgh, fed a banana to one of the elephants.
Professor David Field, a director at ZSL, said the queen was absolutely delighted to learn that the calf, now weighing 460 kg, was named after her.
Zookeepers at Whipsnade described the baby elephant as very playful.
One zookeeper commented, "she even has a football which she takes everywhere and gets stroppy if it is taken away from her."
Assistant curator of elephants at Whipsnade Lee Sambrook said the queen was especially interested to hear about the round-the-clock care the elephants receive.
The queen is a patron of ZSL, which carried out animal conservation work around the world.