Scholars: China-US ties will not affect Beijing-Moscow relations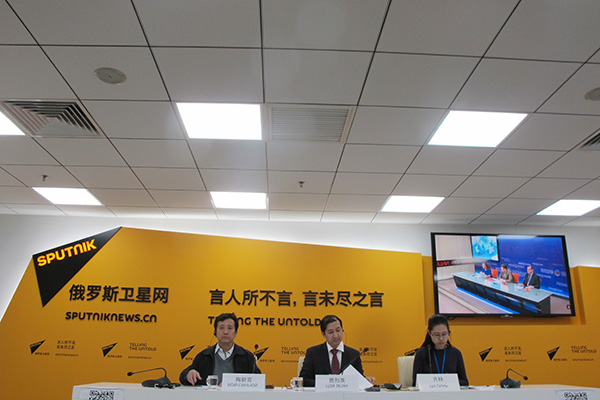 Chinese international relations scholars Mei Xinyu (L) and Jia Lieying (M) talk about China-US-Russia relations with their Russian counterparts via video conference in Beijing on April 10, 2017. [Photo by Chen Liubing/chinadaily.com.cn]
Talks between President Xi Jinping and US counterpart Donald Trump at Mar-a-Lago resort in Florida last week were successful, according to Chinese and Russian experts in international relations, adding that the meeting will not affect ties between Beijing and Moscow as the current tripartite relations are more like a net, rather than a triangle.
Xi-Trump meeting a success
Jia Lieying, dean of International Relations School, Director of UN Studies, at Beijing Language and Culture University, said the Xi-Trump meeting was successful in all aspects. "Face to face communication is very helpful in boosting relations of different countries," said the professor at an event organized by Russian news agency Sputnik in Beijing on April 10. The two sides reduced uncertainties in future cooperation by initiating a four-pronged dialogue structure, namely an economic dialogue, a diplomatic and security dialogue, a law enforcement and cyber security dialogue, and a social and cultural issues dialogue.
The meeting took place just two and a half months after Trump's inauguration on January 20, which was actually the earliest meeting between a newly elected US president and his Chinese counterpart in history, added Mei Xinyu, senior researcher at China's Trade & Economic Relations Department, Chinese Academy of International Trade and Economic Cooperation, Ministry of Commerce. "The first step of problem solving is to outline the problem, and this frank talk has already built mutual trust between the two countries, which has laid a smooth path for solving the problems," said Mei.
The Mar-a-Lago resort in Florida, which is far from the "serious" Washington DC, set the meeting apart from the traditional political decision making, and removed it far from American bureaucracy, said Sergey Trush, a leading member of the Center for Regional Problems of the Institute for US and Canada Studies of the Russian Academy of Sciences, who also fully agreed that the Xi-Trump meeting was a success.
China-US-Russia relations
The relations of Russia, China, and the US are too complicated to be called a "triangle", said Trush. The third side of a triangle will definitely alter if the other two sides are changed, which does not fit in with the current ties of the three countries, he added. Trush also held a positive attitude towards China-US relations.
Jia agreed with Trush on the tripartite relations, adding that the ties of big countries are actually "net-like". Jia also pointed out that the China-Russia relations are at their best in history. "The China-Russia relationship is a neighborhood relationship that is unchangeable, with geographic advantages and low cooperation cost," added Jia.
Mei said he was confident in common peace and prosperity in the Asia-Pacific, by citing a saying of President Xi: "The broad Pacific Ocean is vast enough to embrace both China and the United States." Mei also reaffirmed to his Russian counterparts that China will never ignore its relationship with Russia, a country that shares the longest border with China.