Trump says US-Russia relations "may be at an all-time low"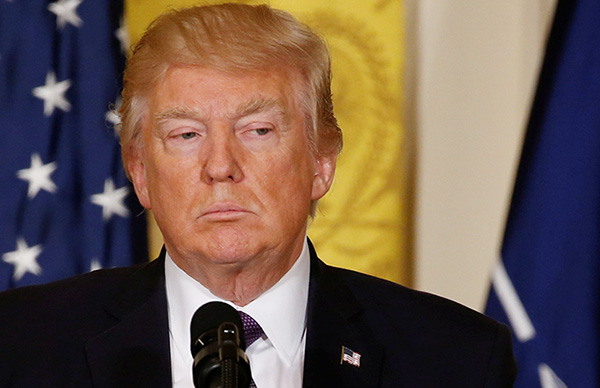 US President Donald Trump listens during a joint news conference with NATO Secretary General Jens Stoltenberg hold in the East Room at the White House in Washington, US, April 12, 2017. [Photo/Agencies]
WASHINGTON - The US is "not getting along with Russia at all" and the relations between the two countries "may be at an all-time low" , US President Donald Trump said Wednesday.
Trump made the remark at a joint press conference with visiting NATO Secretary General Jens Stoltenberg at the White House. It came shortly after US Secretary of State Rex Tillerson said in Moscow that the US and Russia have reached a "low point" in relations.
The Russian government has condemned the missile strikes by the United States on a Syrian airbase last Thursday, calling Washington's move "aggression against a sovereign state in violation of international law."
At Wednesday's press conference, Trump defended his decision to launch 59 missiles at the Syrian airbase in response to the alleged chemical attack the US has said the Syrian government should be to blame.
"It can't be a worst sight. And it shouldn't be allowed. That's a butcher," Trump said. "So, I felt we had to do something about it. I have absolutely no doubt we did the right thing. And it was very, very successfully done."
Asked about Russia's prior knowledge about Syrian government's alleged use of chemical weapons, Trump said it's "possible", but "unlikely" that Russia had known in advance of Syria's plan to launch a chemical weapons attack on its own citizens.
"I know they're doing investigations into that right now. I would like to think that they didn't know, but certainly they could have. They were there. So we'll find out," Trump said.
Stoltenberg said within the NATO alliance, the U.S. military action on Syria has been met with understanding.
"Any use of chemical weapons is unacceptable, cannot go unanswered and those responsible must be held accountable," the NATO chief said.