President Trump invites new ROK president to visit US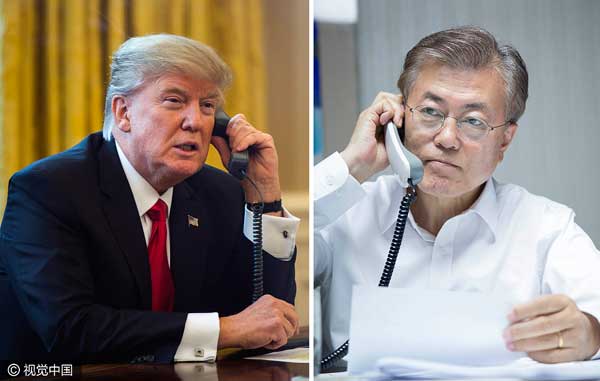 US President Donald Trump, left, speaks with Moon Jae-in, newly-elected president of the Republic of Korea (ROK) by telephone on May 10, 2017. [Photo/VCG] 
WASHINGTON - US President Donald Trump invited Moon Jae-in, newly-elected president of the Republic of Korea (ROK) to visit Washington at an early date and Moon accepted the invitation, the White House said Wednesday.
On Wednesday, Trump spoke with Moon to congratulate him and the people of ROK on "his great election victory and their peaceful, democratic transition of power," according to a White House statement.
The two leaders agreed to continue to strengthen the US-ROK alliance and to deepen the enduring friendship between the two countries.
Moon was sworn in as new president of ROK on Wednesday. In a televised inaugural speech, he said he will be on the move for peace on the Korean Peninsula, vowing to visit Pyongyang, capital of the Democratic People's Republic of Korea (DPRK), under right conditions.
The new ROK leader also vowed to sincerely consult with the United States and China to resolve the issue on the US Terminal High Altitude Area Defense (THAAD) missile defense system.
Parts of the US missile interception system have been moved to the THAAD deployment site in the country's southeastern region, causing strong protests from anti-THAAD activists and residents.