Xi congratulates Moon on ROK election win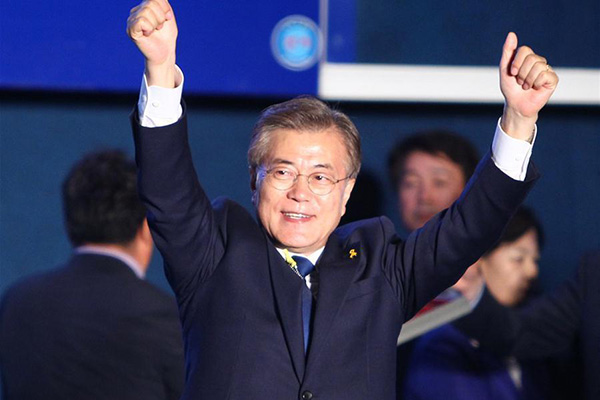 Moon Jae-in of the Liberal Minjoo Party waves during a celebration event in Seoul, South Korea, on May 9, 2017. Liberal candidate Moon Jae-in of the Minjoo Party said Tuesday that South Korea's presidential election is "a great victory of great people" after most of local media outlets viewed his victory as assured. [Photo/Xinhua]
President Xi Jinping sent a congratulatory message to Moon Jae-in on Wednesday to congratulate him on winning the Republic of Korea's presidential election.
In the message Xi pointed out that China and the ROK are important neighbors for each other. Bilateral relations have been comprehensively developed in the past 25 years since the establishment of diplomatic ties, with exchanges in all areas being enhanced, Xi said.
The development of China-ROK relations has not only brought practical benefits for the people of both countries, but also made positive contributions to regional peace and stability, he said.
Xi stressed that he has always attached great importance to the ROK and China-ROK relations. China would like to make joint efforts with the ROK to maintain the achievements of bilateral ties, he said.
The two countries should strengthen political trust, properly handle disagreements, enhance coordination and cooperation under the basis of mutual trust and respect, to push forward the healthy and stable development of China-ROK relations, Xi said.
Xi said he would like to make joint efforts with Moon to make the China-ROK relations better benefit the two countries and the people of both.
anbaijie@chinadaily.com.cn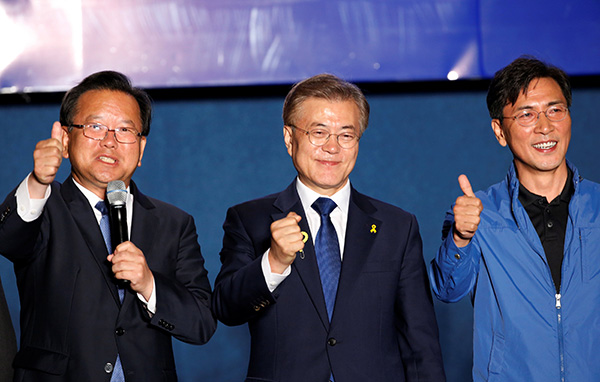 South Korea's president-elect Moon Jae-in and South Chungcheong governor An Hee-jung (R) celebrate with supporters at Gwanghwamun Square in Seoul, South Korea, May 10, 2017. [Photo/Agencies]
Moon Jae-in wins S Korean presidential election
Liberal Moon Jae-in won the South Korean presidential by-election as he gained votes enough to confirm victory, vote count results showed Wednesday.
With 91.3 percent of votes counted as of 3:07 a.m. local time (1807 GMT Tuesday), Moon garnered 40.5 percent, according to the national election commission.
Hong Joon-pyo of the conservative Liberty Korea Party won 24.8 percent. Even if the remaining uncounted votes go to Hong, he will not defeat Moon. It confirmed Moon's victory with certainty.
Ahn Cheol-soo of the centrist People's Party garnered 21.5 percent, trailed by Yoo Seong-min of the conservative Righteous Party with 6.7 percent.
Sim Sang-jung of the minor liberal Justice Party had 6.0 percent support.
Moon celebrated with jubilant supporters gathering at the Gwanghwamun square in central Seoul around midnight as his victory was assured by local media outlets in an early stage of vote count.
In the televised speech, Moon told supporters that he will become a president for all the people from Wednesday, saying he will become a president of unity, caring about those who did not support him in the election.
Before the speech, he told reporters at his party's building that he will achieve the two main goals of reform and unity people had wished for.
Four other major candidates made concessions to Moon, even before less than 10 percent of votes were counted. The concessions led local media outlets to predict an assured election of Moon.