Iraqi forces recapture new areas in western Mosul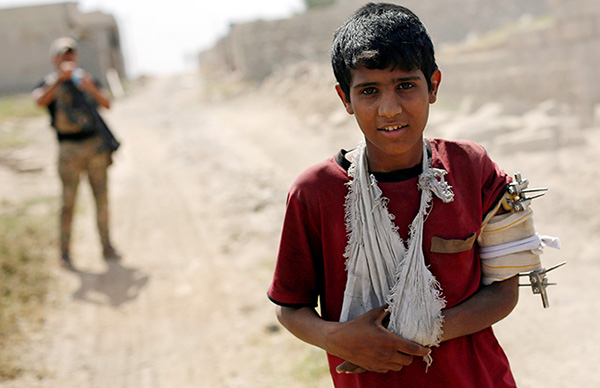 A displaced Iraqi boy flees from a frontline as members of Iraqi Rapid response forces clash with Islamic State fighters, in north west of Mosul, Iraq, May 9, 2017. [Photo/Agencies]
MOSUL - Iraqi forces battling Islamic State (IS) militants on Tuesday extended grip into northern Mosul on the sixth day of a new push that initiated a new front in the northwestern edge of IS stronghold in the western side of Mosul, the Iraqi military said.
The army's 9th Armored Division and elite forces of the federal police, known as Rapid Response, freed the neighborhood of July 30 and raised the Iraqi flag over some of its buildings after heavy clashes against IS militants, Lt Gen Abdul-Amir Yarallah, from the Joint Operations Command (JOC), said in a statement.
The troops initiated a new push at the edge of the adjacent neighborhood of July 17, which is one of the main IS redoubts in the northern part of Mosul's western side, in addition to the remaining part of Harmat neighborhood, the statement said.
Meanwhile, the commandos of the Counter-Terrorism Service (CTS) freed the northern part of the vast industrial area of Wadi Ugab in northwestern Mosul amid fierce clashes with IS militants, Yarallah said in a separate statement.
Early on Thursday, the Iraqi army and Rapid Response special forces pushed on the new front from the northwestern edge of Mosul toward the areas of Mushairfah, Kanisah and Harmat in the northern part of the western side of the city.
The new push would help the special forces of the CTS and the interior ministry federal police, who are making slow progress in the southern part of Mosul's western side because of the stiff resistance of the militants in the densely-populated areas of the old city center, where roughly 400,000 residents are believed to still be trapped under IS rule.
The IS militants are now being surrounded by the troops in the northern part of Mosul's western side, which includes the old city center.
Late in January, Iraqi Prime Minister Haider al-Abadi, who is also the commander-in-chief of the armed forces, declared the liberation of Mosul's eastern side, or the left bank of Tigris, after over 100 days of fighting IS militants.
On February 19, Abadi announced the start of an offensive to drive extremist militants out of the western side of Mosul, locally known as the right bank of the Tigris River, which bisects the city.
However, the western part of Mosul, with its narrow streets and heavily populated neighborhoods, appears to be a bigger challenge to the Iraqi forces.
Mosul, 400 km north of the Iraqi capital Baghdad, has been under IS control since June 2014, when government forces abandoned their weapons and fled, enabling IS militants to take control of parts of Iraq's northern and western regions.