Trump considering how move of US Embassy in Israel could affect Mideast peace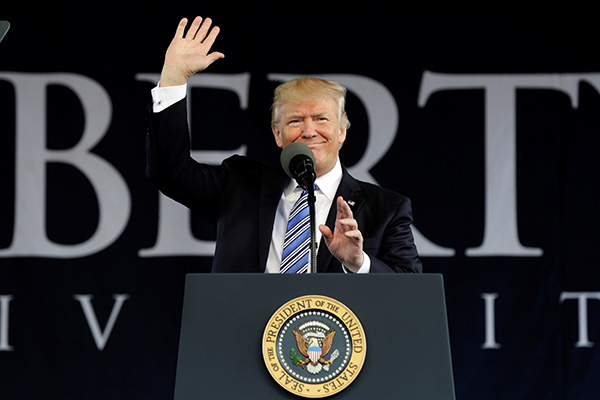 US President Donald Trump waves before delivering keynote address at Liberty University's commencement in Lynchburg, Virginia, US, May 13, 2017. [Photo/Agencies]
WASHINGTON - President Donald Trump is trying to determine how keeping his promise to move the US Embassy in Israel to Jerusalem could affect his hopes of brokering a peace deal between the Israelis and the Palestinians, his secretary of state said on Sunday.
Since taking office in January, Trump has shown signs of shelving his campaign pledge to move the embassy from Tel Aviv, while vowing to do what is necessary to clinch a Middle East peace agreement.
"The president is being very careful to understand how such a decision would impact a peace process," Secretary of State Rex Tillerson told NBC's "Meet the Press." He spoke just days before Trump starts a Middle East trip that includes meetings with Israeli and Palestinian leaders.
Israel regards Jerusalem as its eternal and indivisible capital and wants all foreign countries to base their embassies there. The relocation is strongly opposed by many US allies as the Palestinians also claim the city as their capital.
Tillerson said Trump's decision would depend greatly on how it is seen by governments in the region, including "whether Israel views it as being helpful to a peace initiative or perhaps a distraction."
His comments drew a quick response from Israeli Prime Minister Benjamin Netanyahu.
"Israel's position has been stated many times before to the American administration and the world," Netanyahu's office said in a statement.
"Moving the American embassy to Jerusalem will not harm the peace process, it will do the opposite. It will advance it by righting a historical wrong and by shattering the Palestinian fantasy that Jerusalem is not the capital of Israel."
Reuters