France's new PM Philippe takes office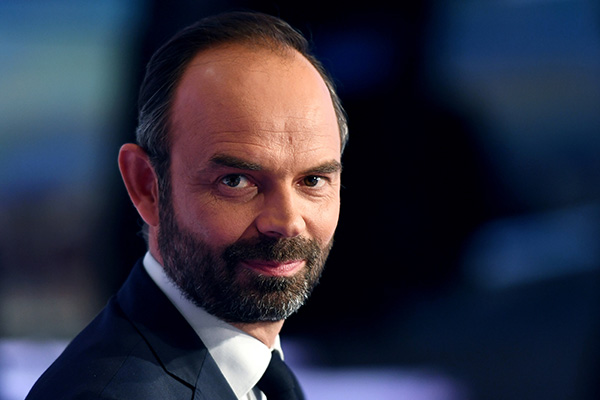 Edouard Philippe, France's newly-appointed Prime Minister, poses prior to taking part in the prime time news broadcast of French TV channel TF1, in their studios in Boulogne-Billancourt, near Paris, France, May 15, 2017. [Photo/Agencies]
PARIS - French new Prime Minister Edouard Philippe took office on Monday, replacing the outgoing Socialist PM Bernard Cazeneuve.
The handover ceremony started at 15:55 pm (1355 GMT), with Cazeneuve greeting his successor, and the two headed into private talks.
Earlier, Philippe was named by French President Emmanuel Macron as prime minister.
The conservative lawmaker is charged to form a government which is expected to include novice and talented faces from different political parties to embody the president's pledge of political renewal.
Philippe, 46, is currently mayor of France' northwestern city of Le Havre and a conservative lawmaker since 2012.
He had been the spokesman of moderate Alain Juppe during the right-center primary in November last year before joining the campaign of Les Republicans nominee Francois Fillon.
Born in Rouen, northern France, Philippe started his political life as a Socialist member when he was a student before switching to the right.
Philippe has a diploma from ENA, a prestigious political university in France. He worked as public affairs director for the state nuclear group Areva between 2007 and 2010.
It is the first time in France's modern history that a president has named a prime minister from outside his party without being forced to by a defeat in legislative contest, a political move may help Macron to win a majority in the upcoming parliamentary election.
Furthermore, by picking a young modernizer for the prime ministerial role, the new head of state, who pledged to turn the page of the right-left ruling era, sent a strong sign of political renewal that he has bet on in order to reunite divided French citizens and make France stronger, analysts said.
In France, the prime minister leads all other government ministries, oversees domestic affairs, and is second only to the president in importance.
The list of new ministers will be announced on Wednesday, according to the Elysee.