Trump says possible to pick new FBI director by next week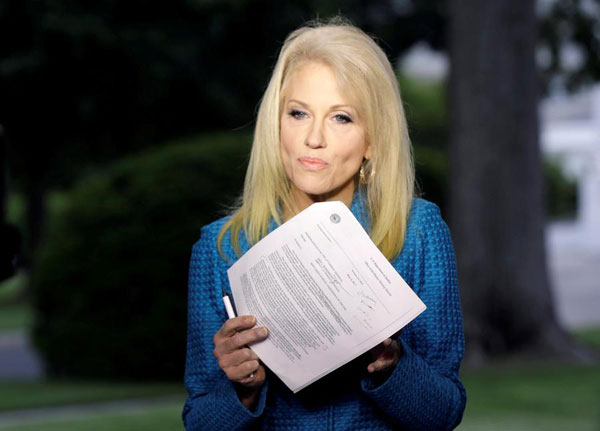 White House Senior Advisor Kellyanne Conway holds up a memorandum from the Justice Department's Deputy Attorney General Rod Rosenstein critical of Comey's position as director of the FBI at the White House in Washington, U.S., May 10, 2017. [Photo/Agencies]
WASHINGTON -- US President Donald Trump on Saturday pledged to move quickly on the selection of a new Federal Bureau of Investigation (FBI) director.
Trump told reporters aboard the Air Force One as he embarked on a visit to Lynchburg, Virginia that a decision may come as soon as before he starts his first oversea trip next Friday.
"Even that is possible," he told reporters when asked whether he could unveil his nominee by Friday to succeed James Comey, whose abrupt dismissal has sparked a major media firestorm and much disagreement.
"I think the process is going to go quickly," Trump said, adding a list of well-known figures are being considered.
"They've been vetted over their lifetime essentially. But very well known, highly respected, really talented people. And that's what we want for the FBI," Trump said.
U.S. media quoted an unnamed White House official as saying that 11 candidates are being considered, including acting FBI Director Andrew McCabe.
The position of the FBI director was vacated Tuesday after Trump fired Comey, which has sent shockwaves through Washington as critics say the move was an attempt to undermine an ongoing FBI investigation into alledged ties between the Trump campaign and the Russian government, an accusation the White House denied.