Venezuela to exit Organization of American States: FM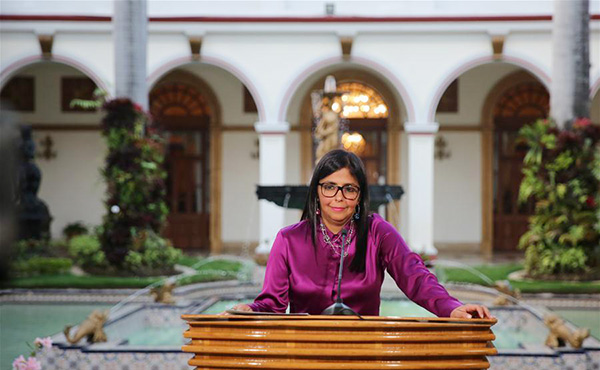 Photo provided by Venezuela's Presidency shows Venezuela's Foreign Minister Delcy Rodriguez delivering a speech in Caracas, Venezuela, on April 26, 2017. Venezuela's Foreign Minister Delcy Rodriguez said Wednesday that the country would leave the Organization of American States (OAS). [Photo/Xinhua and Venezuela's Presidency]
CARACAS - Venezuela's Foreign Minister Delcy Rodriguez said Wednesday that the country would leave the Organization of American States (OAS).
In a live TV address, Rodriguez said that "the OAS has persisted in intrusive actions against the sovereignty of our country and for this, we proceed to withdraw from the Organization."
On Thursday, April 27, Venezuela will deliver a letter to the OAS announcing its exit, triggering a process that will last 24 months, said the minister.
According to Rodriguez, this decision was carried out at Venezuelan President Nicolas Maduro's instructions to protect the country's "sovereignty", adding that Venezuela would not participate in future OAS events as they advocate for "interventionism."
Venezuela has long accused the OAS secretary-general, Luis Almagro, of being a leader in instigating a "coup" against the government of President Maduro.
This exit is not conjecture, it has to do with the dignity of our people, said Rodriguez.
The minister also compared the OAS' actions to the stance it took against Cuba in 1962, when it kicked the country out before reinstating it in 2009.
After her announcement, Rodriguez continued lambasting the OAS, tweeting that "we will never allow those who bend the knee to offend Venezuela! Our sacred nation! Nation of Bolivar! Fatherland of Chavez! We will win!"
Earlier on Wednesday, the OAS had held a special meeting in Washington DC and voted in favor of calling an emergency meeting of foreign ministers to discuss the situation in Venezuela.
This meeting is likely to discuss whether to apply the OAS' Democratic Charter to Venezuela, which would suspend its membership.
Alongside this, Venezuela has called for an urgent session of the Community of Latin American and Caribbean States (CELAC) to discuss what Rodriguez called "threats against the constitutional order in Venezuela, as well as the interventionist actions undermining its independence, sovereignty and its right to self-determination."
Venezuela has been racked by a political and economic crisis, which has spiralled into clashes between government and opposition supporters in April, leaving at least 29 people dead.