Beijing bartender on way to Venezuela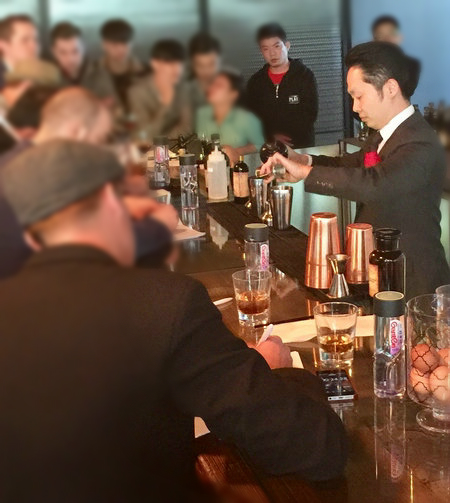 Frankie Zou will represent China in the third annual global competition for rum-based cocktails. [Photo provided to China Daily]
Frankie Zou will represent China in Ron Diplomatico's third annual global competition for rum-based cocktails, winning the national final last week judged on taste, technique, presentation-and meeting a seven-minute time limit.
Time was a challenge for all eight finalists, who had to introduce themselves and answer a flurry of questions from the five judges as they stirred and shook their concoctions.
Why did you pick that ingredient?
What made you want to be a bartender?
Why should you be the one to represent China?
Zou, whose smoky infusions and house-made bitters have made his Botany bar a cocktail destination in China's capital, pulled off a carefully paced presentation of his black-truffle cocktail to win, with Edison Wei from Shanghai's Taste Buds and Jamie He from Beijing's Janes and Hooch respectively claiming the second and third spots.
Zou's recipe included using a bit of cognac to cook down the herbs and spices in the drink. He also used black sugar from Yunnan to give the drink some minerality-"it's not too sweet," he says.
Jamie He used Chinese fruits and a story with a rich history-a Tang Dynasty (618-907) emperor who devoted years to pleasing his lady-to develop her recipe. "Would you pay 1,000 yuan for this cocktail?" one judge asked. Her reply was a confident "Of course." She added cherry to match the rich flavor of the premium rum, and finished the drink with oolong-infused vermouth.
Wei built his rum cocktail on the title and theme Winter Is Coming, citing the warming quality of chocolate, which he used as a final garnish.
Zou heads for next month's semi-finals in Venezuela, joining the winners of heats from 40 countries and regions. He will compete with the winners and the best from that group will be one of 12 finalists who travel to London in June for Ron Diplomatico's world championship.
"That's a tough draw for China," says Joe Mannella, the rum's China importer. "But China's cocktail market is developing very fast," he adds, "and I think the five best bars in the Chinese mainland and in Hong Kong are as good as bars anywhere."
A key aim of the competition, which is held in alternate years, is to take top bartenders to Venezuela to experience the distillery, says Patrizia Damiani, Ron Diplomatico's marketing manager. That's why the semifinals, not the finals, will be in Venezuela, so that all 40 nations and regions in the competition can see the culture of the company's rum-making up close.
The China final was held last week at Mesh bar in Beijing's Opposite House hotel.