Venezuela's Maduro vows to fix court row within hours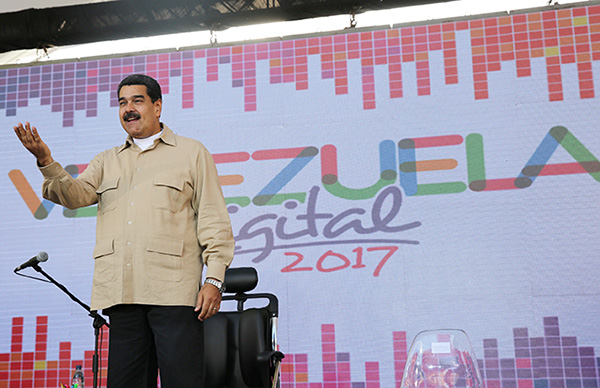 Venezuela's President Nicolas Maduro gestures during a meeting with supporters in Caracas, Venezuela March 31, 2017. [Photo/Agencies]
Venezuela's President Nicolas Maduro said on Friday he would resolve within hours controversy over the judiciary's annulment of congress which has sparked opposition protests and condemnation from around the world.
"I hope to have very good news this evening and clear up the controversy generated," Maduro said in a speech, calling a meeting of the state security council to discuss the attorney general's criticism of the Supreme Court's decision.
The court's ruling that it was assuming the functions of the opposition-led National Assembly was lambasted as a "coup" by critics who viewed it as a lurch into dictatorship by the Socialist Party that has ruled for the last 18 years.
Seeking to project himself as above a fray between independent powers and possibly presaging a U-turn by the Supreme Court, Maduro said he had known nothing in advance of its ruling but would immediately address the matter.
In a rare show of dissent from a senior official, Venezuela's powerful attorney general Luisa Ortega, long an ally of Maduro, rebuked the court earlier on Friday.
"It constitutes a rupture of the constitutional order," the 59-year-old said in a speech on state television. "It's my obligation to express my great concern to the country."
Throughout Friday, pockets of protesters blocked roads, unfurled banners and chanted slogans against Maduro's unpopular government, including "Freedom!" and "No To Dictatorship!"
In volatile western Tachira state, several dozen demonstrators tore up copies of court sentences in front of local judicial buildings.
Having already shot down most of the National Assembly's measures since the opposition won control in 2015, the pro-Maduro Supreme Court on Wednesday said it was taking over the legislature's role because it was in "contempt" of the law.
The Supreme Court went into session from Friday afternoon, further fueling rumors of a row-back to diffuse the controversy.
New court president Maikel Moreno had called a news conference late afternoon, but it was swiftly canceled, with Maduro taking to state airwaves instead to address a technology conference.
Reuters