UK PM May's hand moves closer to Brexit trigger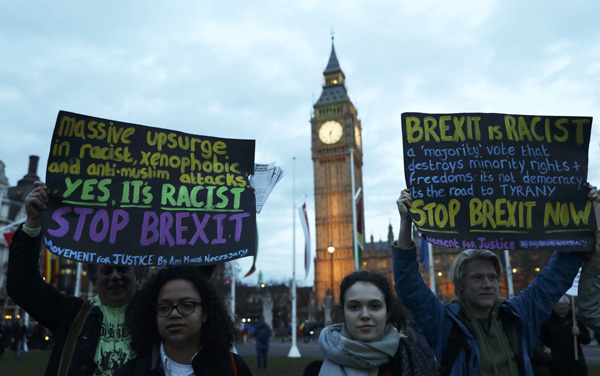 Demonstrators hold placards during a protest in favour of amendments to the Brexit Bill outside the Houses of Parliament, in London, Britain, March 13, 2017. [Photo/Agencies]
Her task in negotiating Britain's EU exit was complicated on Monday by Scottish First Minister Nicola Sturgeon demanding a new independence referendum, to be held in late 2018 or early 2019, once the Brexit terms are clearer.
In recent weeks, the government had lost two key votes in the House of Lords which added conditions to the bill to demand that May guarantee the rights of EU nationals living in Britain and give lawmakers more powers to reject the final terms she reaches with the EU.
But May succeeded in warding off a potential rebellion from a handful of pro-EU Conservatives in the lower chamber, the House of Commons, where May only has a slim majority.
The Commons voted by 335 to 287 to reject the condition on EU nationals' rights, and by 331 to 286 to reject the condition giving parliament a greater say on the final deal.
Earlier May's spokesman said parliament would be involved in the Brexit process.
"We are determined parliament will be engaged all the way through the process and afterwards," he told reporters.
Reuters