Bilateral cooperation grows ahead of Brexit
Trade and investment between China and Britain have increased dramatically since 2009 but the UK government hopes there is greater room for growth as it prepares for uncertainty after its departure from the European Union.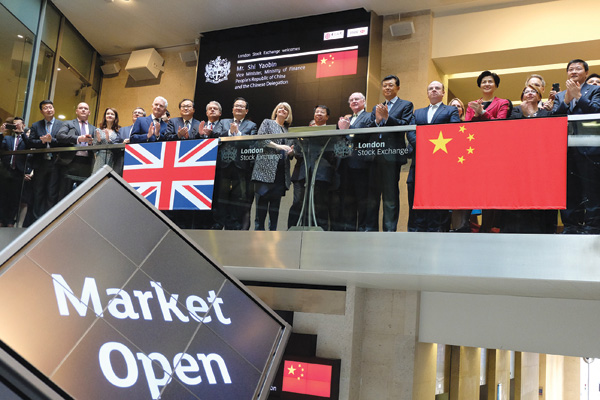 Chinese and British officials greet the launch of China's sovereign offshore RMB bond in London in June last year. 
Collaboration in areas including financial services, infrastructure, power and energy, and advanced engineering has expanded rapidly in recent years. China is Britain's second-largest trading partner outside the EU, while the United Kingdom is China's largest investment destination in Europe.
Jin Xu, minister counselor in the economic and commercial office at the Chinese embassy in the UK, said: "After Brexit, the UK will become even more open to global investment. This provides great opportunities to Chinese companies hoping to invest in the UK.
"Bilateral collaboration in areas such as financial services, pioneering technology, infrastructure, new energy, and advanced manufacturing has massive collaboration potential."
China and the UK's bilateral business relations have grown steadily ever since the two countries established ambassadorial-level diplomatic relations 45 years ago.
This growth accelerated after the 2008 financial crisis, an event which significantly increased the global economy's reliance on China for growth.
According to the embassy, trade between China and the UK more than doubled between 2009 and 2014, growing from$39.1 billion to $80.9 billion. Chinese investment in the UK surged from just $100 million in 2004 to an aggregated $40 billion 10 years later in 2014.
These numbers take account of deals including China Investment Corporation's purchase of an 8.68 percent stake in Thames Water and a 10 percent stake in Heathrow Airport in 2012-some of China's early investments in the UK's public infrastructure.
According to the Grant Thornton Tou Ying Tracker 2016, the fastest growing 30 Chinese companies in the UK in 2015 employed more than 20,000 workers and had an aggregate turnover of almost 10 billion pounds. The tracker is compiled by the London-based accountancy in collaboration with China Daily.
Britain has also been working to help its companies connect with China's major ecommerce platforms, and on establishing reliable distribution channels for instant online sales between the UK and China.
Liam Fox, British minister for international trade, said: "China is the world's second-largest economy, and one of the fastest-growing markets on Earth. Now, more than ever, China's future is all of our futures."
China's direct investment in the UK's nonfinancial sectors in 2016-up until November-exceeded $1 billion. The value of British exports to China has skyrocketed, increasing by 108 percent between 2010 and 2016.
The openness of the UK to inward investment has enabled Geely to support the expansion of its business-enabling it to recruit some of the best and brightest engineers to develop a taxi for which "no city is off limits", said Chris Gubbey, CEO of London Taxi Company, the UK subsidiary of Geely, one of China's big private automakers.
China's largest single investment into the UK so far is China General Nuclear's $6 billion investment in the Hinkley Point C nuclear power plant, which is also the first Chinese nuclear power investment in a developed economy.
Other notable Chinese infrastructure investments include Beijing Construction and Engineering Group's investment into Manchester Airport's 800 million pound business hub, and Chinese developer ABP's 1.7 billion pound investment to transform London's Royal Albert Dock into a new commercial cluster.
Kerry Brown, director of the Lau China Institute at King's College, London, said: "China has great experience in building infrastructure, the UK will benefit from China's investment and technology. The UK is a free and liberal environment, it is one where China can showcase some of its technology, so it can take these technologies to other countries too."
The UK's research strength has attracted many Chinese companies to conduct cutting-edge work in collaboration with British universities.
China's largest train manufacturer, CRRC, is working with the University of Birmingham, Imperial College London, and the University of Southampton on research into advanced train technologies.
Chinese telecommunications giant Huawei is working with the University of Surrey on developing fifth-generation mobile networks.
Chris Rudd, pro-vice-chancellor for external engagement at the University of Nottingham, said the research partnership between China and the UK had "reached a degree of maturity" and had been helped by government support on both sides.