Students changing Chinese cuisine landscape in US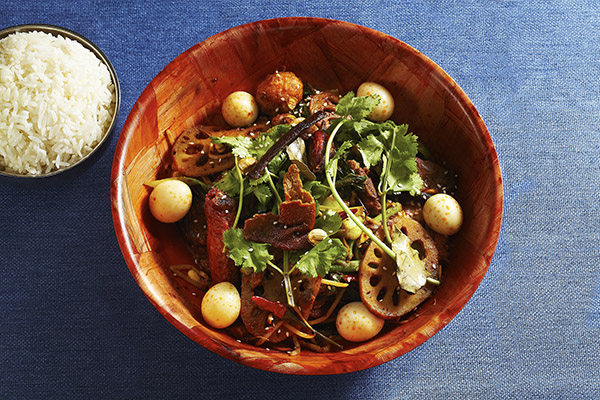 Mala xiangguo at MáLà Project. [Photo/provided to China Daily]
Amelie Ning Kang was looking to be a pastry chef or a Michelin star chef when she moved to New York state from Beijing in 2010 to pursue her bachelor's degree at the Culinary Institute of America.
Now, the 25-year-old is running her own restaurant, MáLà Project, with Meng Ai, a recent graduate of New York University.
The duo are part of a growing number of Chinese students who were bored with sesame chicken, and more importantly, the routine Chinese cuisine found in the US. So they decided to do something different.
They craved the large variety and authenticity of dishes they had back home, and they believe that jiaozi, Chinese dumplings, deserve the same respect and price tag as ravioli.
Kang's restaurant features mala xiangguo, translated to English as "numbing spicy stir-fry pot". It is a popular Chinese dish that Kang and her friends used to get every week in Beijing.
When she first came to the city, the only place she could find the dish was in Flushing, Queens, one of the three New York Chinatowns. "There's no service, a very poor dining environment, and the ingredients are not always fresh," Kang said.
She wanted to recreate the best mala xiangguo she had in China, "with great service, ambiance and culture".
For months, Kang and Ai experimented with traditional Chinese medicine and exotic spices, finally arriving at the now-secret recipe made with 24 ingredients, ranging from orange peel to ginseng.
Located in Manhattan's East Village, MáLà Project seeks to attract Chinese students at NYU who crave the taste of home after a long day of classes, along with New Yorkers looking for authentic ethnic food.
Last July, MáLà Project got a new Chinese neighbor right next door.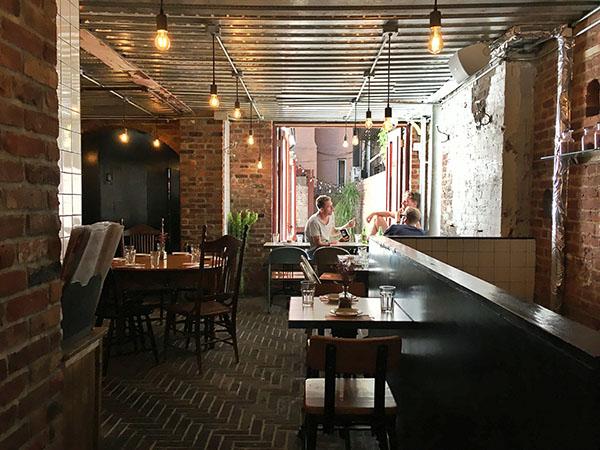 Customers dine at MáLà Project in Manhattan's East Village. Unlike the interiors of many traditional Chinese restaurants in the US, the owners used brick floors and Edison bulbs and decorated with cultural objects, such as China's iconic hot water bottles. [Photo/provided to China Daily]
The Tang, co-owned by two seniors and an NYU graduate, is a noodle bar featuring dishes from different regions of China, including zha jiang mian from Beijing, pork belly string beans steamed noodles from Shanxi and dan dan mian from Sichuan.
Like many others from Northern China, Yu Li, who first came up with the idea of the restaurant, constantly hungers for noodles. However, the only places in the NYU area that specialize in noodles are Japanese ramen shops.
"If marketed well, Chinese noodles will one day become an icon like ramen. We want to make The Tang a brand," said Li, who studies computer science.
His idea was backed by his parents and the co-owners: Eric Shi, who graduated with a bachelor's in hospitality, and He Shuting, who's studying math and economics and acts as the restaurant's accountant.
Walking into The Tang, customers are transported to old Beijing. With the painted wall art, it's as if they are slurping a bowl of noodles in an aged hutong, an alley enclosed by gray brick-and-tile walls.
Not only students in metropolises like New York or Los Angeles are bringing change to Chinese food. Those studying in America's Midwest are changing the food scene too.
When Jason Zhang first moved to East Lansing from China in 2011 to attend Michigan State University, the Chinese eateries in the college town were all owned by immigrants who came a decade or two ago to make dollars.
"Now I have at least double as much as the restaurants to pick from, and there are more varieties of dishes in each restaurant," said Zhang.
A half dozen Chinese restaurants are owned by Chinese students. PawPawQ, a new restaurant opened by a Chinese undergrad, serve some of the most popular food in China: spicy crawfish, jianbing (Chinese crepe), and xiao long bao (soup dumpling).
One of the take-out restaurants that Zhang used to go for a cheap lunch box of "American Chinese food" has been acquired by a Chinese student.
"There are more authentic Chinese dishes, and we'd sit and dine in there. And service has gone from none to pretty good," he said.
The university's 5,000 Chinese students keep the restaurants busy. The college town also has Chinese karaoke bars, bubble tea shops and three Chinese student-owned car dealers.
A little more than 300 miles away, at the University of Illinois at Urbana-Champaign, where another 5,000 Chinese students are enrolled, Amy Yang and her five housemates from China opened a hot pot restaurant.
Like other Chinese student restaurateurs, they came with no knowledge of the food business but lots of passion.
They pitched their business plan to parents, who provide the funding to most student-owned restaurants.
Yang was in charge of construction and decorations because she studied civil engineering. The other partners took the parts, including business analyst, accountant and HR.
They stayed in the restaurant until dawn for the first few weeks they were open, moving the appliances in the kitchen to maximize efficiency and experimenting with new recipes.
"It's a lot more complicated than we expected," said Yang, but rewarding when she sees her fellow students enjoying the hot pot and Chinese kebabs after a midterm and asking for more sliced lamb.
Back in New York, Kang is hoping to expand MáLà Project as she sees America getting ready for more authentic and thoughtful Chinese restaurants with the prices to match.
"There's the demand for Chinese restaurants to offer authentic food, along with strong branding and stories to tell, just like the market for French and Italian," she said.