Why the negative bias against Chinese students in America needs to stop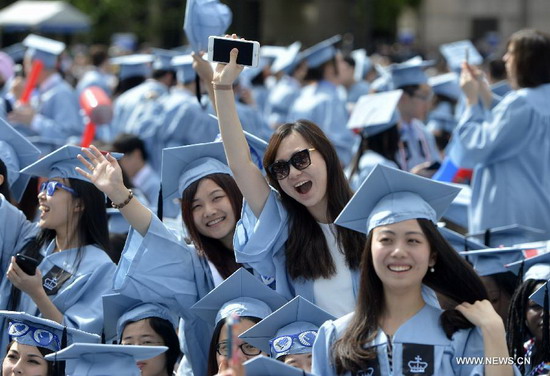 Chinese Graduates of Columbia University attend the commencement ceremony in New York City, United States, on May 20, 2015.[Photo/Xinhua]
When Chinese students in the US returned to universities in 2017, they began a new semester under a cloud. The Los Angeles Times reported that, in the wake of Trump's election, the Chinese Consulate in San Francisco warned students of rising anti-China sentiment that might be dangerous. The Consulate's letter cited instances of verbal abuse directed at Chinese students. Meanwhile, Asian Americans Advancing Justice has recently reported a huge uptick in hate crimes against Asians, thanks to Trump's demonization of China as America's enemy.
But it would be naïve to assume that all of this started with Trump's election. In fact, there has always been a negative bias against Chinese students in the US
Much of the mainstream news coverage of Chinese students in America has a negative slant – from stories like "Heavy Recruitment of Chinese Students Sows Discord on US Campuses" (Wall Street Journal) to more exaggerated headlines such as "How Chinese Students Are 'Cheating' To Get Into US Universities" (Forbes) and "Fraud frenzy? Chinese seek US college admission at any price" (CNN). Meanwhile, that bias has trickled down to the public. I've had many conversations about Chinese students in America with academics and the general populous; most often, people allege Chinese are ruining the quality of education, or stealing admissions spots from more deserving American students. Even Google displays this bias; when I searched for Chinese students in the US, of the four suggested search strings, two were the following: Chinese students in the US problems, and Chinese students in the US rich.
The negative bias against Chinese students in America needs to stop.
First of all, Chinese don't deserve to be labeled as poor-quality students. The vast majority of Chinese students in America are capable. They are hardworking, with most students spending more time studying than their American counterparts and generally eschewing the college party scene. You'll find Chinese students at the most selective US universities, such as Harvard and Yale. A 2014 survey by the National Association of International Educators revealed that overall most colleges and universities report higher retention rates for international students compared to domestic students, and Chinese students comprise the largest group of international students at over 30 percent of the total. Even the dismissal numbers reported in the media are exaggerated and taken out of context. A whitepaper by WholeRen Education estimated that as many as eight thousand students were dismissed during the 2013-14 academic year, when a total of nearly 300,000 Chinese students were attending US colleges and universities. While this claim was based on the company's own incomplete information -- casting doubts on the accuracy -- nevertheless that still means at least 97 percent of the students – if not more -- were satisfactorily meeting their academic requirements that year.
Second, the negative bias against Chinese students can be harmful academically in everything from admissions to successfully completing their education. As US admissions consultant Parke Muth wrote in the The Journal of College Admissions:
"My contention is that most who have read about what is going on in China are primed to believe that any student who applies is suspect. If I am right about this, there are thousands of students applying to schools who are being judged more harshly than others. Students who have done everything right may be negatively assessed because they have been grouped in with students who submit fraudulent applications."
At worst, this kind of harsh judgment, applied after they arrive at the university, can result in unwarranted punitive action against Chinese students, such as undeserved failing grades in a class or even wrongful dismissal from the university. Given the 2014 study by the Wharton School at the University of Pennsylvania, which found that Chinese students were one of the two groups most likely to face discrimination from faculty at American universities, there is already evidence of a systematic bias against Chinese students.
Three, Chinese students are not to blame for all the perceived problems. Take, for example, complaints about admissions fraud and the use of agents in China. Americans don't realize that China's exam-driven culture makes the US preference for holistic admissions entirely foreign to them. At the same time, many high schools in China lack college counselors. It's unheard of for students to request recommendation letters, and there's no requirement for personal statements or essays to get into university in China, nor the extracurriculars, volunteer work or part-time jobs that demonstrate the "real-world" experience American applicants often possess. Is it any wonder Chinese students hire agents to guide them through a totally foreign process, one that their relatives, parents and even schools don't understand? Besides, if American universities were really committed to reducing fraud, it's also up to them – at an admissions level – to do the proper due diligence to ensure that every student is vetted appropriately. Chinese students pay full tuition, so why can't universities invest a portion of that money into improving the vetting process?
Finally, the negative bias against Chinese students can result in a hostile campus environment that undermines the kind of diversity and inclusiveness universities seek to foster. In June 2016, Chinese students riding the light rail at Arizona State University were attacked by a white American woman, who was angry at them for speaking their native language of Mandarin Chinese. There were pre-2017 reports of Chinese students being subject to racial slurs such as "Ching Chang Ling", "chink" and "yellow" at institutions including the University of Iowa, the University of Missouri, the University of Delaware, and UCLA. Even highly ranked universities are not exempt: in the fall of 2016, a racist message targeting Chinese students was distributed in a group chat at Carnegie Mellon University. These examples are unsettling, as research has shown that an unwelcoming environment in the host institution can make it harder for international students to thrive at school. Further, the growing animus towards international students could have a negative impact on recruitment overall, leading to less diversity on campus.
Now that Trump has taken office, people are bracing for continued waves of anti-immigrant sentiment, promising the potential for more negativity against Chinese students and more harmful consequences. If America is truly a nation that champions immigrants, diversity and inclusiveness, it's time for the country to stand up for those values, especially on its campuses. Americans and others around the world have taken to the streets to protest Trump. We can all do our part to stop the negative bias against groups of people, including Chinese students in America. It can be as simple as educating your friends and family about the bias to writing an article about it. What will you do today to make our world safer for everyone, including Chinese students in America?