UK's queen unveils memorial dedicated to Britons involved in Afghan, Iraq wars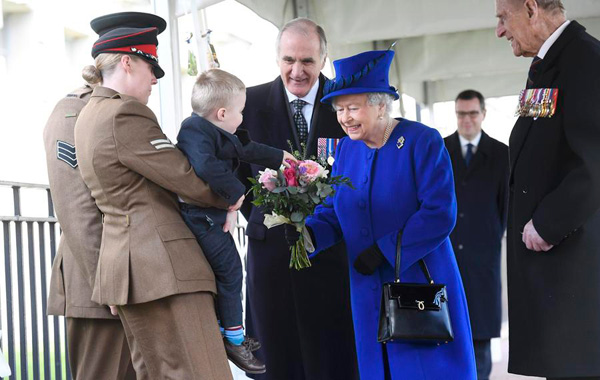 Alfie Lun, 2, is held up by his mother Michelle as he hands a bouquet to Britain's Queen Elizabeth during the unveiling of the new memorial to members of the armed services who served and died in the wars in Iraq and Afghanistan, in London, Britain, March 9, 2017.  [Photo/Agencies]
LONDON - Queen Elizabeth unveiled a memorial on Thursday to British armed forces and civilians who served during recent wars in the Gulf, Afghanistan and Iraq and their work "to bring peace and stability".
Nearly 700 British service personnel were killed in the three conflicts from 1990-2015 while hundreds of thousands of Britons served there either in the military or part of humanitarian efforts.
"We shall be forever grateful to them for the part they played," the 90-year-old British monarch said in a message for the event's official programme.
"It is with pride that we honour the contribution of all those members of the armed forces and civilians who served our country - at home and abroad - while endeavouring to bring peace and stability to Iraq and Afghanistan."
The memorial, which stands in gardens alongside the River Thames, is made up of two large stones - one to signify Iraq and the other Afghanistan - linked by a large bronze medallion with one side depicting the military effort and the other the civilian and humanitarian contribution.
Costing one million pounds ($1.22 million) and funded by public donations, the sculpture was unveiled following a sombre service for 2,500 veterans and guests, including all Britain's senior royals.
The queen's grandson Prince Harry, who himself served two tours in Afghanistan, read a passage from the bible while other guests included former Prime Ministers John Major and Tony Blair, the British leaders during the conflicts.
Some 53,000 UK personnel took part in the Gulf War in 1991 to drive Saddam Hussein's Iraq out of Kuwait, with 47 killed.
Britain lost 456 servicemen and women in Afghanistan out of the 140,000 who served there during operations since 2001, while 179 were killed between 2003-9 in the second war in Iraq.
Thursday's ceremony had attracted criticism as relatives of those who were killed in the conflicts were not invited.
"No one from the bereaved community has been turned away, and everyone who has applied to attend has been successful," Prime Minister Theresa May told parliament on Wednesday. ($1 = 0.8230 pounds)
Reuters