Chinese companies urged to take measured approach to Canada mining investment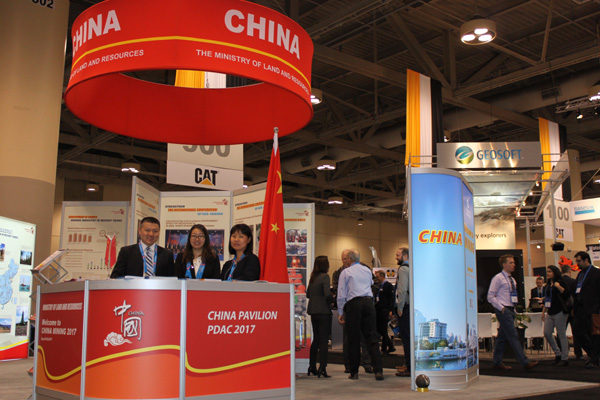 The exhibition booth of the Ministry of Land and Resources of China is showcased at the Prospectors & Developers Association of Canada (PDAC) 2017 convention in Toronto on Monday. NA LI / CHINA DAILY
Perhaps Chinese mining companies in Canada should consider taking minority stakes in Canadian companies instead of acquiring them. That was the takeaway at a mining forum on Monday in Toronto.
"Acquisition of interests in a Canadian public mining company is often a key step to acquiring mining interests throughout the world," said Fred Pletcher, chairman of National Mining Group, Borden Ladner Gervais LLP.
Pletcher spoke to delegates of Chinese mining industry at the 2017 Chinese Mining Investment Forum. The forum coincided with the first day of the Prospectors & Developers Association of Canada (PDAC) convention, the premier international event for the mineral industry in Toronto, where optimism was voiced that the industry would rebound after a couple years' slump.
The forum hosted by the Canada China Chamber of Commerce (CCCC) and the China Mining Association (CMA) focused on the Belt and Road strategy and Chinese mining investment opportunities.
Keith Spence, president of Global Mining Capital Corp and chairman of PDAC International, suggested that Chinese investors in Canada could learn from Japan's 1970s approach in which he said it was "not necessary" to take majority ownership of the Canadian companies.
The Japanese model that was developed to invest in Canadian resources companies started was involved not only in taking controlling interests, but smaller stakes, ranging from 15 percent to 30 percent.
"But still having contracted a lot of Canadian companies to sell off-take commodities to the Japanese companies, many Japanese investors have been remained 20-plus years with successful operations," Spence said.
Here is how Investopedia.com describes off-take commodities: "An off-take agreement is an agreement between a producer of a resource and a buyer of a resource to purchase or sell portions of the producer's future production."
"Canada is rich in mineral resources, has an open and transparent policy and a prosperous mining capital market," said Cao Jie, managing director of CMA.
"There are complementary advantages in mining resources and the stock market between Canada and China," said Li Aihua, president of CCCC.