UK firms carve reputation
British designers who are known for their skill and high-quality craftsmanship are in demand in China, opening the door for a London-based furniture producer to contribute to a new school library project that blends Western concepts with Chinese culture.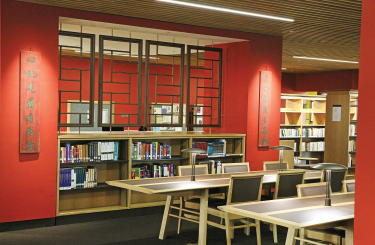 Luke Hughes has created a mix of Chinese and Western styles in the library of a new Beijing school. [China Daily] 
Luke Hughes, founder of one of the United Kingdom's leading furniture design companies, Luke Hughes, was tasked with designing, engineering, and making furniture for a library at a new international school in Beijing.
"I think one of the reasons the Chinese like some of the British brands is because they are good," he said. "We do the small things really well-the cars, the clothes, shoes and so on. Mass production, we're not so good at, but craftsmanship is still alive in this country."
For the project that might have ordinarily taken 12 months to complete, Hughes had a time-frame of four months.
In that time, he delivered 24 metric tons of furniture, 85 percent of which was made in the UK.
Hughes, who has made furniture for both Oxford and Cambridge universities, the Supreme Court, and both Harvard and Yale universities in the United States, said the furniture made for the Chinese school included subtle nods to the Ming Dynasty (1368-1644) while blending Eastern and Western aesthetics reflecting the digital age.
"I think the Ming Dynasty furniture is particularly beautiful, it is probably the most beautiful period of Chinese furniture," Hughes said. "We wanted to influence the space with color, so we chose three very traditional ceramic colors associated with temples and on the walls-yellow of the Song Dynasty (960-1279), blue associated with Chinese ceramics and a warm red."
One of the aims was to create a space that students wanted to visit, ponder and "possibly stumble upon the unexpected".
He said libraries should not only be about housing books but also be places people fl ow through easily, feel comfortable in, and want to visit.
British sculptor Jill Watson also contributed to the library, designing bronze door handles for the main door in the form of two dragons-one Chinese and one Welsh.
Hughes said an inscription created by Caroline Webb also catches attention.
"The inscription, which is carved on slate, says By Leaves we Live-and it is a three-way pun," he said. "By leaves of trees, we can breathe the air and oxygen etc, by leaves of books we learn and we become enriched and our lives are better that way, and also through departures we grow."
He said the commission was about being inspired by both cultures.
"It isn't about an ego of Britishness that one tries to present here, what is presented is a mix of values of the best of the West and the best of the East," he said. "We have hints of this East-meets-West metaphor. A lot of clues like that, such as pictures around the library wall, including one of the Rosetta Stone."
Another British company experiencing similar interest from China is Arthur Brett, a bespoke furniture maker founded in 1860. Jeremy Loxton, a sales manager at Arthur Brett, said the company has been getting a lot of interest from China and Asia recently.
"Their interest tends to be mainly in classic British designs-such as designs from the Georgian and Regency periods," he said. "There is also an appreciation for the fact that our furniture is all made and finished by hand in England. This is one of our major selling points in all events, but this seems to be especially appreciated by Chinese clients."