Leeds' companies hope for ecommerce breakthrough in China
The British government is offering stronger support to exporters expanding into China's massive consumer market through cross-border ecommerce sales channels as Brexit creates uncertainty about the UK's trade links with Europe.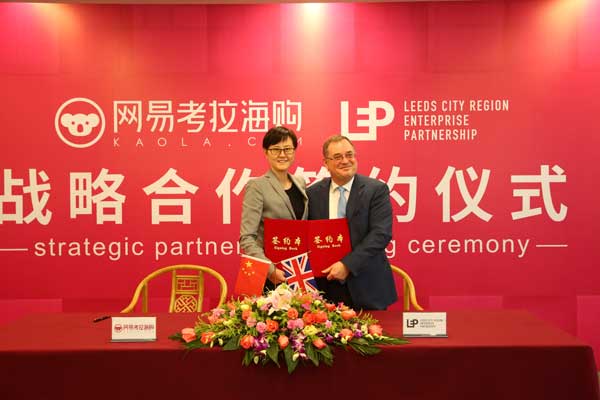 Chair of Leeds City Region Enterprise Partnership Roger Marsh (R) and Zhang Lei, CEO of Kaola.com during the signing ceremony. [Provided for chinadaily.com.cn]
On Thursday, the local government in the city of Leeds signed an agreement in Hangzhou with the Chinese ecommerce platform Kaola.com that will support exporters from Leeds in selling within China.
The agreement follows on from a six-month pilot project to put 25 companies from Leeds on Kaola.com's platform last year. They are involved in selling perfume, alpaca wool bedding, skincare products, ceramics and glass tiles, toys and clothing. Successful sales among the initial 25 firms led to the new agreement, which looks to help more Leeds exporters follow the same path.
Roger Marsh, chair of Leeds City Region Enterprise Partnership, said the deal supports both the United Kingdom's vision of increasing exports and Leeds' vision of becoming an international trading hub. The agreement was signed by both Marsh and Kaola.com's CEO Zhang Lei.
"There is an enormous appetite to export into the expanding middle-class market developing at pace in China," Marsh said.
Zhang said Kaola.com sees the UK market as an important source of premium-quality products for the Chinese market, and through collaboration with the Leeds government, Kaola.com hopes to find more high-quality British brands for its platform.
"We also hope to find more well-known British brands that are not yet well-known in China, and help them grow their brands' popularity in China. This process will also satisfy Chinese consumers' demand for increasingly high-quality products."
Kaola.com has more than 5 million daily users, according to the company.
During the past year, the British government has been pushing for additional exports to China, especially through the use of large Chinese ecommerce platforms that allow exporters to sell products to China's massive consumer market with very little upfront investment.
Secretary of State for International Trade Liam Fox said in January that his team was working "to connect British suppliers to China's major ecommerce platforms, establishing reliable distribution channels for instant online sales between the UK and China".
Last year,the government agencyUK Trade and Investment, launched a China-UK Cross-border Ecommerce White Paper in London in partnership with the Bank of China. It was aimed at helping British exporters understand China's cross-border ecommerce market conditions, regulations and policies.
The white paper launch in London was attended by more than 10 Chinese cross-border ecommerce platforms, including Kaola.com. They held meetings with about 70 British exporters. Others attending included Alibaba and JD.com.
Although official figures on UK-China ecommerce trade are not available, growth is already being felt by ecommerce logistics firms, including STO Express, which saw its China-UK shipment volume in 2016 grow by 50 percent.
"China will become an increasingly important market for British exports, especially after Britain leaves the European Single Market," said William Franklin, founder of the London-based China Investors Club.
But Franklin also pointed out that, despite the optimism of Leeds' local government, the city's may have limited ecommerce products to offer to China because its economy is dominated by sectors such as advanced engineering, green technology, automotive and agriculture.
Contact the writers at cecily.liu@mail.chinadailyuk.com