Iraqi forces launch new push to free Mosul airport, military base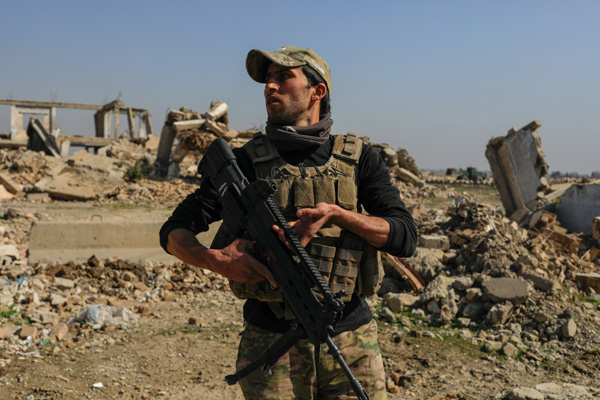 An Iraqi security forces member is pictured beside a destroyed Mosul's airport building after driving out Islamic State's militants south west Mosul, Iraq February 23, 2017. [Photo/Agencies]
MOSUL -- Iraqi forces on Thursday fought heavy clashes with Islamic State (IS) militants as part of a new assault on Thursday morning to retake of Mosul international airport and a nearby military base from the hands of the extremist militants, the Iraqi military said.
The Counter-Terrorism Service (CTS) special forces seized 85 percent of Ghazlani military base in the southern outskirts of the western side of Mosul after heavy battles with the extremist militants, the Joint Operations Command (JOC) said in a statement.
The troops are still fighting to free the rest of the sprawling base, the statement said.
The troops killed many IS militants and destroyed five booby-trapped vehicles and two vehicles carrying heavy machine guns, along with defusing some 65 roadside bombs, the statement added.
Meanwhile, the federal police and elite interior ministry units, known as Rapid Response, entered Mosul international airport near Ghazlani base and managed to free more than 50 percent of the airport and the adjacent compound of a sugar plant and its residential buildings, according to the statement.
The battles in the airport resulted in the killing of many IS militants and the destruction of five booby-trapped vehicles, the statement said.
Earlier in the day, Lt. Gen. Raid Shakir Jawdat, the commander of the federal police forces, told Xinhua that the troops freed the airport after several hours of fierce clashes with the IS militants.
The airport facilities and runway were badly damaged, as the extremist militants bombed all the buildings before they withdrew, according to Jawdat.