US envoy vows no mass deportation to pacify Mexico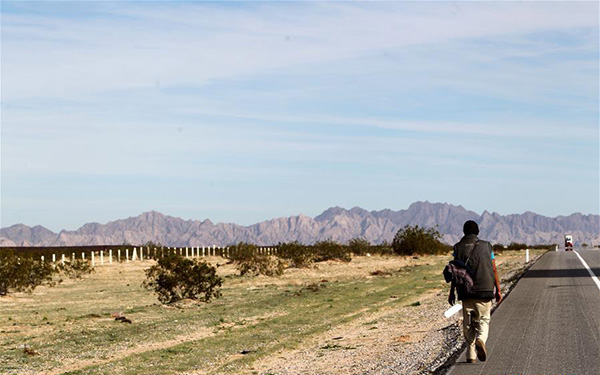 A migrant walks on a highway in the Mexican state of Sonora, on Feb 10, 2017. US President Donald Trump signed two executive orders on Jan 25 to have the Department of Homeland Security begin planning, designing and building a "physical barrier" along the US-Mexico border, identify undocumented immigrants, and remove those who have criminal records. [Photo/Xinhua]
MEXICO CITY - Top US envoys on a working visit to Mexico on Thursday tried to allay fears that their government was preparing to massively deport undocumented migrants back across the border.
The reassurances came during a joint press conference by US Secretary of State Rex Tillerson and Secretary of Homeland Security John Kelly, following their meeting with Mexico's Ministers of Foreign Affairs and the Interior, Luis Videgaray and Miguel Angel Osorio Chong, in Mexico City.
"Let me be very very clear, there will be no, repeat no mass deportations. Everything we do at Department of Homeland Security (DHS) will be done legally and according to human rights in the legal justice system of the United States," Kelly said.
US President Donald Trump's vow to crack down on undocumented migrants has struck fear into immigrants living in the United States, and Mexican officials are concerned that massive deportations could lead to a humanitarian crisis along the border.
Kelly said that "the focus of deportations will be on the criminal element that has made it into the United States. All of this will be done, as it always has been, in close coordination with the government of Mexico."
While there will be "no use of military force" in deportation proceedings, said Kelly, a retired Marine Corps general, "we will approach this operation systematically, in a results-oriented way, in an operational way, and in a human dignity way."
Earlier, Trump had described the deportation campaign as "a military operation."
Tillerson said the two countries "reiterated our joint commitment to maintaining law and order along our shared border by stopping the potential terrorist and dismantling the transnational criminal networks moving drugs and people into the United States."
The US secretary of state said officials also discussed trade and energy ties, in addition to fighting cross-border crime, but gave no details.
"We agreed that our two countries should seize the opportunity to modernize and strengthen our trade and energy relationship," he said.
He noted crime went both ways across the border.
"Similarly we underscored the importance of stopping the illegal firearms and bulk cash that is originating in the United States and flowing into Mexico. There's no mistaking that the rule of law matters on both sides of the border," Tillerson said.
Videgaray said, "There is concern and irritation among Mexicans about what are seen as policies that could be harmful for Mexicans in Mexico and abroad," he said.
"Today we have taken a step in the right direction," the Mexican minister said, stressing the importance of cooperation.
Mexico and the United States are already at odds over Trump's plan to build a wall along their border and his attempts to pressurize Mexico into giving concessions on trade.
The US president wanted to renegotiate a two-decade-old agreement signed by Mexico, the United States and Canada, claiming it has unfairly benefited Mexico at the expense of US workers.