Pence brings Trump message of partnership with EU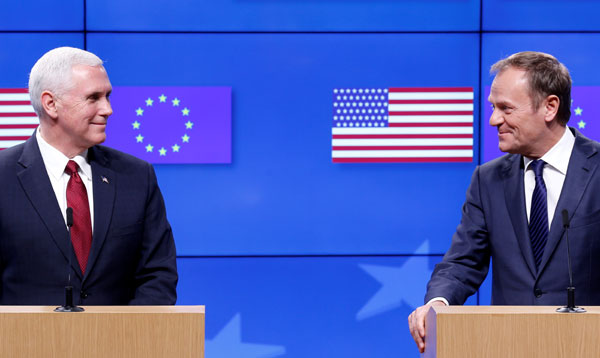 US Vice President Mike Pence and European Council President Donald Tusk hold a joint news conference in Brussels, Belgium, February 20, 2017. [Photo/Agencies]
BRUSSELS - US Vice President Mike Pence sought to reassure the European Union in Brussels on Monday that the Trump administration will maintain and develop decades of partnership in trade and security.
Donald Tusk, who chairs the European Council of EU leaders, told reporters that Pence gave him affirmative answers when asked about his view on three key issues - the importance of the international order based on international law, security based on NATO and the idea of a united Europe.
"After such a positive declaration, both Europeans and Americans must simply practise what they preach," he said in a statement after the two men met.
President Donald Trump alarmed EU leaders by endorsing Britain's decision to leave the bloc and by suggesting last month that other states might follow. Pence spent the weekend in Germany seeking to reassure Europeans that Trump was committed to the NATO defence pact, but left some unconvinced.
Pence said Trump had asked him to come to Brussels, the home of the European Union, with an additional message.
"Today is my privilege on behalf of President Trump to express the strong commitment of the United States to continue cooperation and partnership with the European Union," he said.
"Whatever our differences, our two continents share the same heritage, the same values and above all, the same purpose to promote peace and prosperity through freedom, democracy and the rule of law. And to those objectives we will remain committed."