Trump names Lt. Gen. Herbert McMaster as new national security adviser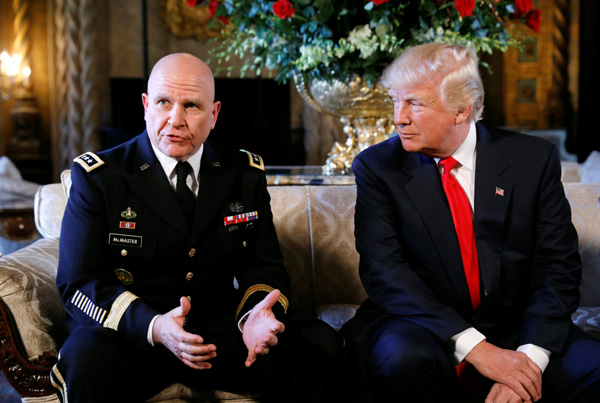 US President Donald Trump and his newly named National Security Adviser Army Lt. Gen. H.R. McMaster (L) speak during the announcement at his Mar-a-Lago estate in Palm Beach, Florida US February 20, 2017. [Photo/Agencies]
WASHINGTON - US President Donald Trump on Monday named Lieutenant General Herbert McMaster as his new national security adviser.
"He is a man of tremendous talent and tremendous experience...he is respected by everybody in the military, we are very honored to have him," Trump said in his Florida residence Mar-a-Lago.
For his part, McMaster said he looked forward to advancing and protecting the interest of the American people.
The appointment came days after former National Security Adviser Michael Flynn resigned after it was revealed that he had misled Vice President Mike Pence about his telephone conversation with the Russian Ambassador to the United States, in which he made comments about US sanction on Russia.
McMaster, 54, is considered a military strategist among the US top brass, he has written extensively on the US military failures in the Vietnam War, and has contributed to a shift in tactics in the military campaign in Iraq.