Trump's 1st month in White House: magic realism or hallucinatory realism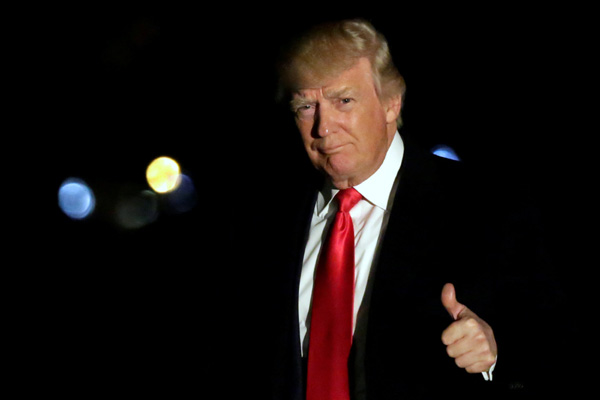 US President Donald Trump gesture as he walks on the South Lawn of the White House upon his return to Washington, US, after a weekend in Palm Beach, Florida, February 20, 2017. [Photo/Agencies]
WASHINGTON - US President Donald Trump now has been in White House for a whole month since he was inaugurated on Jan 20, and it seems like an almost daily tug-of-war between Magic Realism and Hallucinatory Realism in the country.
Magic Realism means using magic ways to describe the reality, while Hallucinatory Realism means using realistic ways to describe an illusion. Both terms are fiction genres.
From views of most US mainstream media and Trump's protesters, the past 30 days were full of protests, chaos, scandals, disarrays, division, confusion and frustration from inside and outside America.
But from views of Trump, his White House aides and his supporters, the newly-inaugurated president is loyal to his campaign pledges, very effective and has done a "wonderful job".