Trump's 1st month in White House: magic realism or hallucinatory realism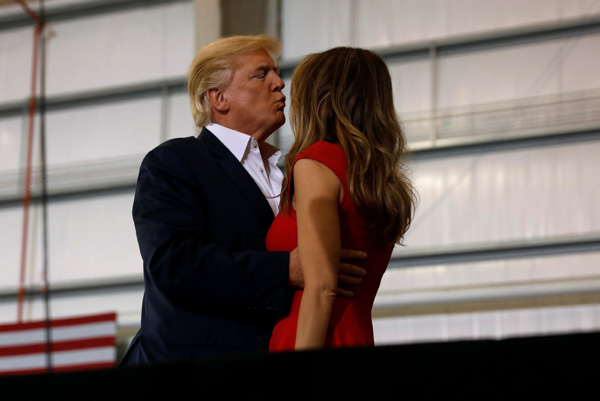 US President Donald Trump kisses his wife Melania during a "Make America Great Again" rally at Orlando Melbourne International Airport in Melbourne, Florida, US February 18, 2017. [Photo/Agencies]
The Pew Research Center's latest survey suggests similar results -- only eight percent of Democrats and Democratic-leaning independents approve Trump's job performance, the lowest rating for any new president from the opposing party in more than three decades, but 84 percent of Republicans and Republican leaners nod the way Trump is handling his job as president.
The intensity of the public's views of Trump is also striking: fully 75 percent either approve or disapprove of Trump strongly, compared with just 17 percent who feel less strongly, the Pew poll finds.
"In first month, views of Trump are already strongly felt, deeply polarized," the Pew report concluded.
In the past month, the pro-or-against Trump tug of war has also rolled out in another magic or hallucinatory style, featuring the fierce fighting between the White House and most major media over fake news or "alternative facts".
These news outlets say the size of Trump's inauguration crowd is much smaller than Barack Obama's in 2009, but White House spokesman Sean Spicer rebuked by calling it "the largest audience to ever witness an inauguration - period - both in person and around the globe."
Numerous reports from US media say the Trump administration was often in chaos and suffered from inside fights and classified information leakage, citing the forced resignation of Trump's National Security Adviser Michael Flynn partly as a result.
And Trump, though slamming the leakers as "criminal", defended last week at his first White House press conference that his team was running like "a fine-tuned machine", blaming "fake media" for bringing down a loyal Flynn.
Approaching the end of his first month in White House, Trump further blasted on Twitter that five US major media organizations are "the enemy of the American people", which includes New York Times, NBC News, ABC, CBS and CNN.