Vice President Pence swears in Pompeo as CIA director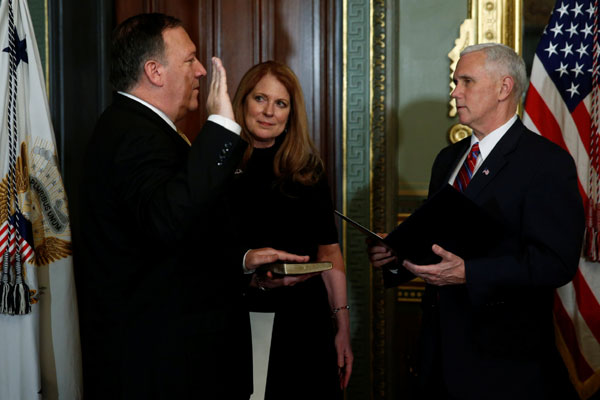 US Vice President Mike Pence (R) swears in Mike Pompeo, flanked by his wife Susan Pompeo, to be director of the Central Intelligence Agency in the vice president's ceremonial office in the Eisenhower Executive Office Building at the White House in Washington, US January 23, 2017. [Photo/Agencies]
US Vice President Mike Pence is praising Pompeo's "wealth of experience" and "character." He says Pompeo is "stepping up to lead the finest intelligence-gathering operation the world has ever seen."Pence is speaking at a swearing-in ceremony for Pompeo that comes about an hour after the incoming CIA director was confirmed by the Senate.
Pompeo will lead the nation's top spy agency at a critical time for US national security and in the aftermath of Russia's meddling in the US election.
The White House had hoped to have Pompeo in place Friday but Democrats stalled, arguing that his nomination needed more vetting and debate.
The Senate has confirmed Rep. Mike Pompeo to run the CIA in President Donald Trump's new administration.
The vote Monday was 66-32.