Chinese, Egyptian diplomats explain One Belt One Road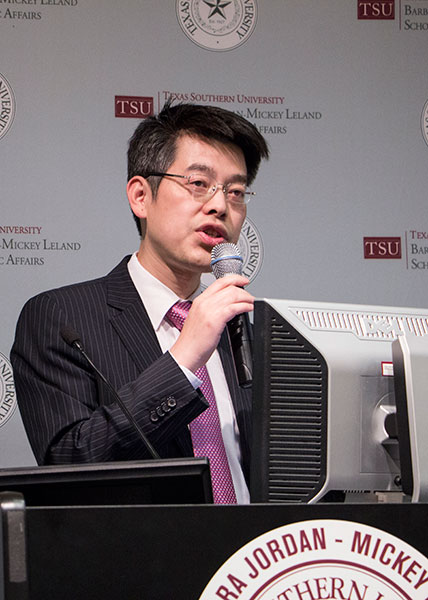 Zhao Yumin, deputy consul general of China in Houston, talks about China's One Belt One Road initiative at Texas Southern University and how the US can participate in it. MAY ZHOU / CHINA DAILY
China's One Belt One Road initiative is not just for China and other countries are invited to participate, said Zhao Yumin, the deputy Consul General of China in Houston.
Zhao and Consul of Egypt Rahem Kholeif discussed One Belt One Road on Thursday at Texas Southern University and what it means for China, Egypt and the world, and how it can benefit the US.
"It's a colossal program, China can't do it alone. If the initiative can't benefit others, nobody would join. China is seeking win-win solutions for all to progress. It's important to have shared benefit," Zhao told the audience.
He said One Belt One Road, is not a new concept, and recounted the history of the ancient Silk Road of more than 2,200 years ago that peaked during the Tang Dynasty. It was a land route that began in western China's Xi'an and went into East Europe.
When Chinese President Xi Jinping proposed the One Belt One Road initiative in 2013, he referred to that historical trade route, and it means connectivity and inclusiveness in a world rapidly going global, said Zhao.
One Belt One Road has made headway in the past three years, he noted. China and 21 nations have set up 56 economic cooperation zones. In 2016, China invested $14 billion in One Belt One Road countries and had $900 billion in trade with them.
"This region has 4.4 million population accounting for 63 percent of the world's population, but GDP is only 29 percent of world total," Zhao said.
The average per capita GDP in the countries is only $4,000. The total GPD is valued at $21 trillion. It means there is a lot of room for development, he said.
China is planning a summit in Beijing in May to discuss strategies and projects of One Belt One Road. Zhao said that under the current atmosphere of de-globalization and protectionism, the summit wants to stress the importance of interconnection and inclusiveness.
The US can benefit from One Belt One Road, Zhao said, noting that there are so many high-speed railway, road and power plant projects in the region. US companies can profit by investment and technology transfer to do some of the projects, he said. "We often refer some projects to US companies," Zhao said.
While it's relatively easy to attract US companies to participate in One Belt One Road projects because of economic gains, Zhao said it's hard to get US government support for it.
"However, we work hard to communicate. The atmosphere is changing since last call between US President Donald Trump and Chinese President Xi Jinping. We are working hard with your government. We need to do a lot with government at state, city and county level. We want to persuade American people that China is willing have a stronger relationship with the US, and US company can benefit from One Belt One Road."
"It is China's initiative but it belongs to the world. China wants to build its own economy but also help with global economy," Zhao said.
Consul of Egypt Rahem Kholeif discussed her country's participation in OBOR with the audience. "When in 2013 Chinese President Xi announced OBOR, Egypt and China relationship entered a new phase – partnership," said Kholeif.
Why is Egypt interested in Chinese initiatives? Kholeif said that's because the OBOR initiatives are in line with Egypt's objectives: economic cooperation, people interaction, and working together –those are the key to create a peaceful world.
Kholeif also discussed Egypt's importance in OBOR: its location enable it to provide logistic services to the Middle East and Africa. "China can access 2 billion people market through Egypt," said Kholeif.
China and Egypt have signed MOU with China to invest $15 billion in Egypt, and Egypt to allocate 75 million sqft in the Suez Canal Zone, Kholeif said.
Kholeif also said OBOR can help bring peaceful solution for ongoing conflicts in the Middle East. "Economic cooperation may be a new viable solution when diplomatic and military measures have failed. These initiatives may overcome the source of conflicts," Kholeif said.