Xi talks trade in Asia-Pacific with Russian President Putin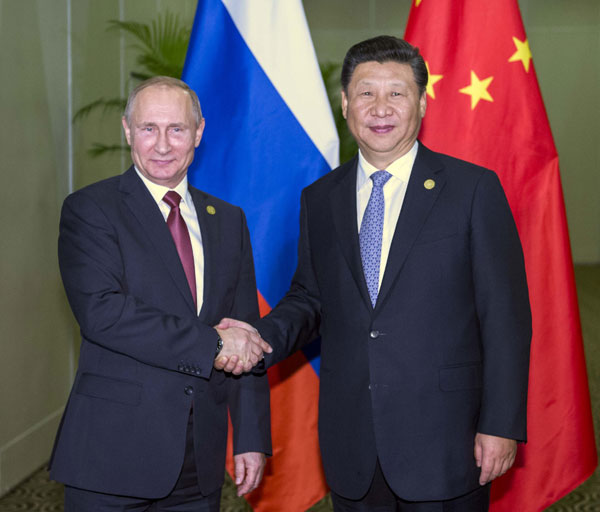 President Xi Jinping meets with Russian President Vladimir Putin on the sidelines of the APEC leaders meeting held in Lima, capital of Peru.[Photo/Xinhua]
To establish the Free Trade Area of the Asia-Pacific, President Xi Jinping said China and Russia should join efforts to move forward.
Xi made the remarks on Saturday while meeting with Russian President Vladimir Putin on the sidelines of the APEC leaders meeting held in Lima, capital of Peru.
The process of Free Trade Area of the Asia-Pacific (FTAAP) was initially launched in 2014 during the APEC leaders meeting in Beijing. China has made continuous efforts to establish the FTAAP in the past two years.
China would like to partner with Russia to maintain the frequency of high-level exchanges, support each other and strengthen political and strategic mutual trust, Xi said.
The development strategies of China and Russia should be connected, and the construction of China's Belt and Road initiatives and Russia's Eurasian Economic Union should be synergized, Xi added.
China will enhance coordination with Russia in global and regional affairs to safeguard global peace and stability, he said.
The close Russia-China relationship is of key importance to global peace and stability, Putin agreed, adding that the two countries should maintain high-level exchanges.
Russia-China economic and trade ties are developing well, and positive progress has been made in areas including technology, he said.
Russia expected to promote the connection of Eurasian Economic Union with China's Belt and Road initiatives, he added.
The two presidents also exchanged views on international and regional issues that concern them both. They agreed to safeguard the peace and security of Northeast Asian and Central Asian regions.