Xi calls for S China Sea dialogue with Vietnam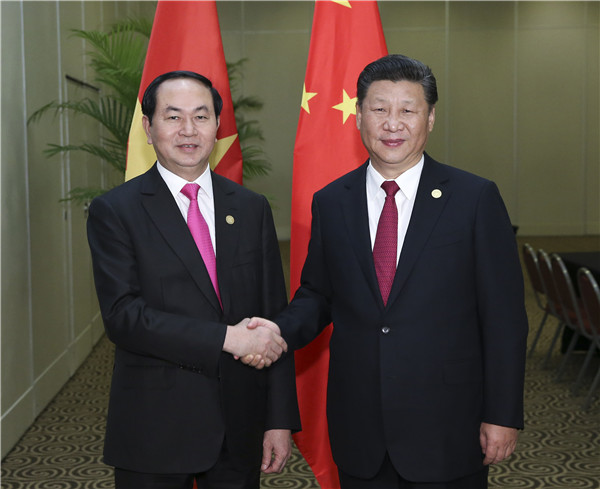 Chinese President Xi Jinping (right) meets with Vietnam President Tran Dai Quang on the sidelines of the APEC leaders meetings held in Lima, capital of Peru, Nov 19, 2016. [Photo/Xinhua]
China and Vietnam should resolve disputes through a bilateral dialogue to safeguard the peace and stability of the South China Sea, President Xi Jinping said on Saturday.
The two countries should properly handle disagreements with the principle of setting aside disputes and by joint development, Xi said while meeting with Vietnam President Tran Dai Quang on the sidelines of the APEC leaders meetings held in Lima, capital of Peru.
Both sides should speed up the construction of a cross-border economic cooperation zone and push forward cooperation on infrastructure projects, Xi said.
All of the APEC members should make joint efforts for the long-lasting prosperity of the Asian and Pacific region, Xi said, adding that China supports Vietnam to host next year's APEC meetings.
The Vietnamese president said that Vietnam would like to keep close high-level exchanges with China to push forward the steady and sustainable development of bilateral ties.
The current Vietnam-China cooperation has made progresses in all areas, which has benefited people from both sides, he added.
anbaijie@chinadaily.com.cn