Premier Li, Russian PM meet the press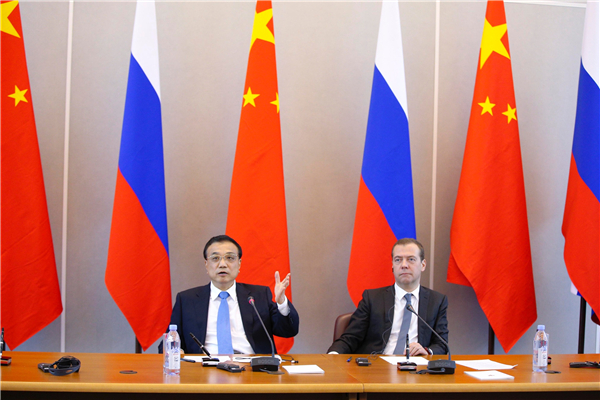 Premier Li Keqiang and Russian Prime Minister Dmitry Medvedev meet the press together in St Petersburg, Russia, on Nov 7, 2016. Photo provided to chinadaily.com.cn
Premier Li Keqiang and his Russian counterpart, Dmitry Medvedev, talked to the press in St Petersburg, Russia, on Nov 7.
Premier Li introduced the results of the 21st China-Russia prime ministers' regular meeting, saying China and Russia will endeavor not only to make breakthroughs in traditional cooperation areas such as energy and major projects, but to tap huge potential for cooperation among small and medium-sized enterprises (SMEs), promote innovative cooperation and boost employment.
China is ready to promote cooperation with Russia in far east area development, infrastructure, connectivity, deep-processing of agricultural products, and people-to-people and cultural exchanges, the Premier said.
In addition, the two sides hope to promote financial cooperation based on the settlement of local currencies, to support bilateral cooperation in vast areas, he added.
Amid the sluggish world economy, China and Russia insist on free trade and investment facilitation and oppose any form of trade and investment protectionism, strive to promote economic globalization and regional economic integration by holding to principles of openness, inclusiveness and transparency, the Premier said in a response to questions.
This is in accordance with common long-term interests of all parties concerned, and China will continue to work with Russia and other countries to push the agenda, he added.
Medvedev said the China-Russia relationship will embrace broader prospects. The two sides will make new efforts to advance trade and investment cooperation, promote cooperation in SMEs, finance and agriculture, while strengthening major infrastructure and energy projects, in order to boost cooperation areas.
Russia will make efforts to increase people-to-people exchanges with China for mutual understanding between people of the two nations, Medvedev added.
Russia values exploration and construction of the far east areas, and will take concrete measures to attract Chinese investment. Also, Russia will work with China to promote peace and development of the region, and the world at large, under a constructive strategic partnership, he said.