Premier Li visits the State Hermitage Museum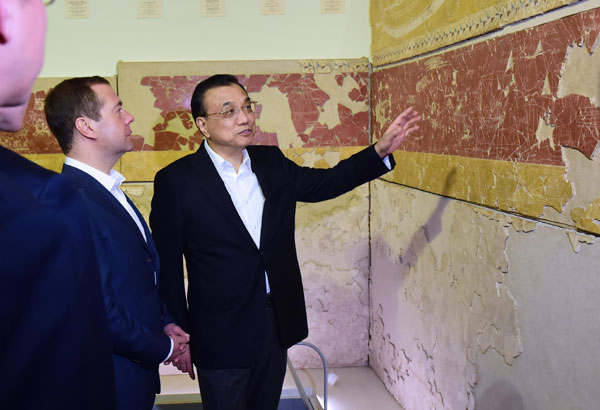 Premier Li Keqiang (right), accompanied by his Russian counterpart Prime Minister Dmitry Medvedev,  visits the State Hermitage Museum in St Petersburg, Russia, on Nov 6, 2016. Photo provided to chinadaily.com.cn 
Premier Li Keqiang visited the State Hermitage Museum, a world heritage site and one of four most famous museums in the world, in the coastal city of St Petersburg on Sunday.
Premier Li was accompanied to the museum by the hosting Russian Prime Minister Dmitry Medvedev after arriving in the city to attend the 21st China-Russia Prime Ministers' Regular Meeting. Premier Li is on an eight-day Eurasian trip that has taken him to Kyrgyzstan, Kazakhstan and Latvia.
Both leaders looked at classic works made during various time periods. Premier Li said these works demonstrate the diversity of human civilization and the pursuit for good, beauty and peace.
Medvedev visited China's National Museum when he visited Beijing last year.