Premier Li and Russian PM co-chair regular meeting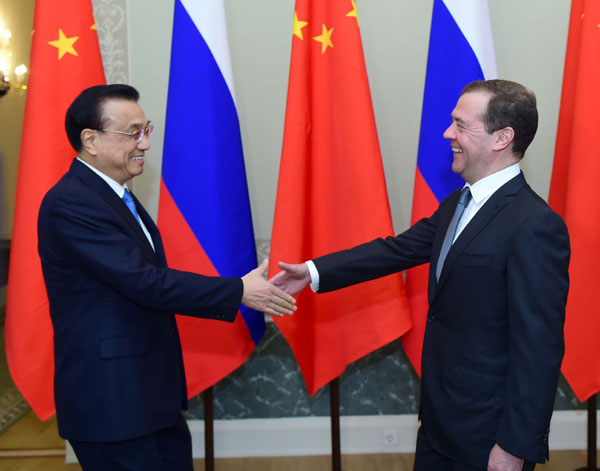 Premier Li Keqiang meets with his Russian counterpart Dmitry Medvedev during the 21st China-Russia Prime Ministers' Regular Meeting in St. Petersburg, Russia on Nov 7, 2016. Photo provided to chinadaily.com.cn 
Premier Li Keqiang and his Russian counterpart Dmitry Medvedev co-chaired the 21st China-Russia Prime Ministers' Regular Meeting in St. Petersburg, Russia on Nov 7.
Premier Li said that China and Russia are each other's largest neighboring country and partners in comprehensive strategic collaboration. The bilateral relations have witnessed a steady and healthy momentum, and new results have been constantly achieved in pragmatic cooperation, he said.
As permanent members of the United Nations Security Council, both China and Russia have maintained cooperation in international affairs and jointly safeguarded the missions and principals of the UN charter to promote regional and global peace and stability, said Premier Li.
He added that China is glad to join efforts with Russia to better dovetail the China-proposed Belt and Road initiative with the Eurasian Economic Union (EAEU) framework to continuously improve the bilateral relations and cooperation levels, and achieve mutual benefit for the peoples of the two countries.
Premier Li pointed out that amid the sluggish recovery of the world economy and the slowing trade growth trend, China and Russia need to further complement with each other to add vigor to their economic revitalization and transformation.
He said that China is ready to work with Russia to deeply explore the cooperation potentials and deepen the infrastructure construction cooperation in civilian nuclear power , aviation manufacturing and railways.
The bilateral cooperation in the next step will focus on small and medium-sized enterprises, especially the innovation fields, to provide new drivers to China-Russia pragmatic cooperation, said Premier Li.
He said the two sides should strengthen financial cooperation, expand the scale of settlement in local currency to support bilateral cooperation, increase the scale of trade to secure the world trade system and rules to promote the sustainable and healthy development of bilateral trade and two-way investment.
Premier Li said that cooperation in agriculture should be further promoted, especially in processing of agricultural products, where the future is bright.