Colombian president laments plane crash that killed 71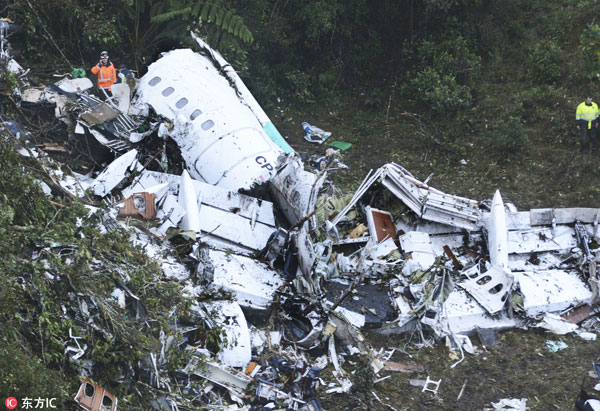 Rescue workers stand at the wreckage site of a chartered airplane that crashed in a mountainous area outside Medellin, Colombia, Nov 29, 2016. [Photo/IC]
BOGOTA -- Colombian President Juan Manuel Santos on Tuesday lamented the plane crash in the northwest of his country that killed 71 people.
"A tragedy that grieves us. We lament the accident of the plane that was carrying #Chapecoense. Solidarity with the families of the victims and with Brazil," Santos posted on Twitter.
The LMI2933 charter flight carrying Brazilian football team Chapecoense was heading to a championship final of the South American Cup in Medellin, Colombia.
The plane with a total of 69 passengers and an eight-member crew lost radar contact just before 10 p.m. Monday (0300 GMT Tuesday) only a few km away from the destination airport, according to Colombia's aviation agency.
The death toll was previously reported as 75 but was later revised to 71 by local authorities.
Santos also confirmed reports that six people survived the crash, including three football players, two crew members and a sports writer. At least 20 journalists traveling with the team were killed.
South American Football Confederation Conmebol suspended "all confederation events until further notice."
According to Medellin's Jose Maria Cordova airport, the crew reported electrical failures to the control tower moments before the crash.
The flight had taken off from the Viru Viru International Airport in Santa Cruz de la Sierra, Bolivia.
Officials say they do not yet know why the plane crashed. Colombia's Caracol News reported two black boxes have been recovered.