Thai crown prince formally proclaimed king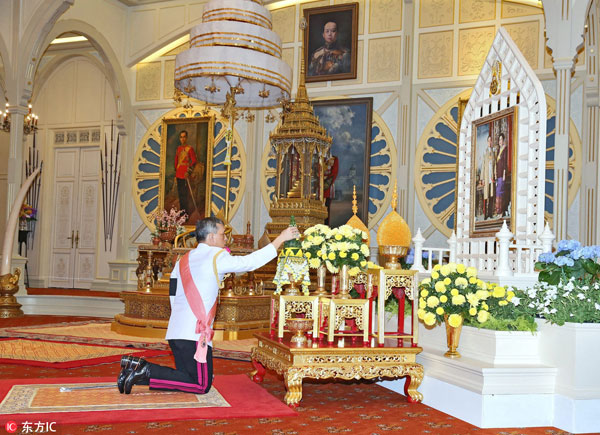 A handout image provided by the Royal Household Bureau shows Thailand's new King Maha Vajiralongkorn Bodindradebayavarangkun paying respect to a portrait of the late Thai King Bhumibol Adulyadej and Thai Queen Sirikit during the accession to the throne proclamation ceremony at the Ambara Villa of the Dusit Palace in Bangkok, Thailand, December 1, 2016. [Photo/IC]
BANGKOK -- Thailand's Crown Prince Maha Vajiralongkorn accepted invitation from parliament president to ascend to the throne and thus formally proclaimed King Rama X in a televised ceremony broadcast late Thursday.
"In accordance with the Palace Law and the constitution, I accept the invitation (to become king) for the sake of (the late King) His Majesty and for all the Thai people," said Vajiralongkorn in a televised statement, followed by Thai Prime Minister Prayut Chan-o-cha's televised address, in which Prayut said "we have a new king now".
King Vajiralongkorn's formal name is "His Majesty King Maha Vajiralongkorn Bodindradebayavarangkun".
According to the televised ceremony, Pornpetch Wichitcholchai, head of parliament, or National Legislative Assembly, Prime Minister Prayut Chan-o-cha, Supreme Court President Veerapol Tungsuwan and the current Regent Prem Tingsulanondaare were granted an audience with the prince at about 19:16 at Bangkok's Dusit Palace, during which Pornpetch invited the prince to formally ascend the throne.
Since Vajiralongkorn accepted the invitation, he is now King Rama X, or the 10th king of the Chakri dynasty founded in 1782, succeeding his father, revered late King Bhumibol Adulyadej, who died at 88 on Oct. 13.
King Vajiralongkorn's formal coronation will not happen before his father's royal cremation later next year. Prime Minister Prayut has announced that the current reign dated back from Oct. 13, 2016.
Born on July 28, 1952 in Bangkok, the now 64-year old King Vajiralongkorn is the second of four children of late King Bhumibol Adulyadej and Queen Sirikit and the only son of them.
In 1972, at the age of 20, Vajiralongkorn was designated crown prince by his father.
He started primary education in 1956 and then went to the United Kingdom and Australia for further education before undergoing military training in Austria for several years.
According to his official biography, King Vajiralongkorn is a qualified helicopter and fighter pilot. He holds high ranks in the Thai army, navy and air force.